BonaireTalk Discussion Group
Bonaire WebCams: Monday - 25 Nov
Bonaire Talk: Bonaire WebCams: Archives: Archives 1999-2004: Archives - 2002-07-01 to 2002-11-27: Monday - 25 Nov
---
Good Morning to the world!

Ahhhhh... the Toyota Hilux.... I really wish they sold these things in the U.S. Of course, the lack of heater may cause issues here in the Iowa winters.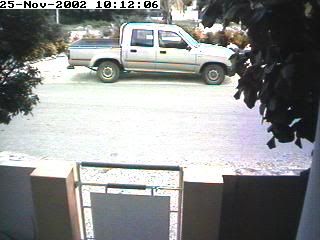 FYI. Great pictures Larry H posted on the Dive talk site under my Question about an A40 camera.
Oop it was Larry Oberlander (had a brain fart for a second) that took these great pictures! Sorry, Larry if your listening..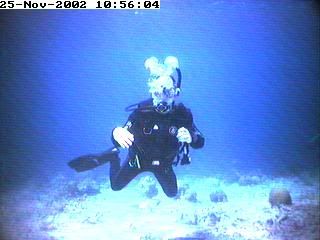 Good morning all.
I am just popping out to say hello. I am very busy and start packing for our eclipse tour to south Africa and Mauritius. We are leaving on thursday.
Here the last pic I captured. How nice and cool to dive on Bonaire.
Thanks Jake for the yesterday afternoon underwater pics. Great shots. Still a lot of work to to. Try to catch you later.
Goodmorning Martine,Clint, and Michael. Here's more of the same group of divers and their boat. Do we know these people?margarite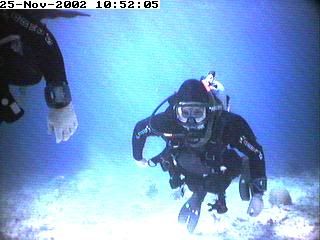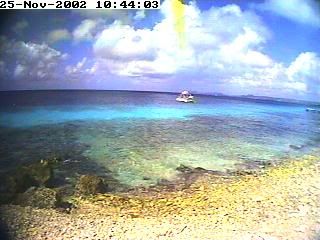 Good morning Margarite. Don't know who the divers are, but I think a hood in Bonaire waters is a little too much.
I only say that because the first time we went I sorely wished I had one with me. The second time around it never got unpacked.

Divers are gone and fishes are back.
Margarite, Michael and Clint, it seems we are the only ones connected this morning. :o)
Oh Good. it is nearly 5pm here, and it's nearly dark. It didn't stopped raining the whole day. :o(
We'll, let's go back to my packing.
Good morning all. OK, Well, it is morning here 9:15am. Thanks for the pic's of the divers and fishes this morning. I was still sleeping and missed them. The reef cam looks great. Thanks for the cleaning Jake :-) Hope you have a great trip Martine!
Missed these guys from earlier. The tall lanky looking dude is John, his lovely assisstant is his wife Marcia, and the last is Marcia's son Brian.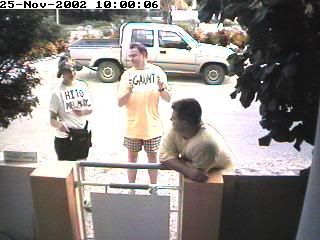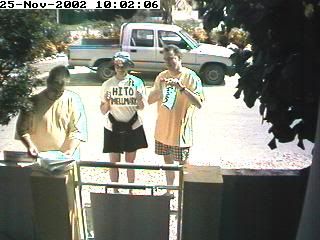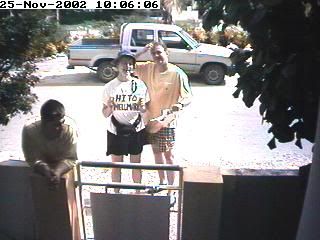 Wait.... come back!!!!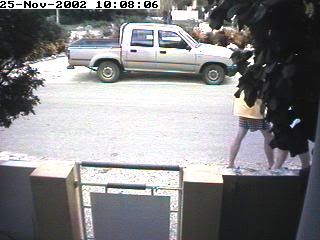 It's a wonder what a little lens cleaning can do!
The world needs more reef cams! I have been lurking and otherwise sniffing around on this site for months now and am happy to report that I will be arriving in Bonaire, direct from Detroit, in just 31 days (the day after Christmas). As we are traveling with the "Nomads" (a travel club from Detroit)our luggage is limited to one 40 pound bag each, but this motor-city Santa may be able to grant a few small Christmas wishes. E-Mail me any special requests and I'll try to accomodate if I can fit it in the sled.
Dave - ONE forty pound bag each? Not planning on taking dive gear along are you?
I always push the 70 pound limits whenever I go somewhere. I guess I need to learn how to pack light.
Fish flyby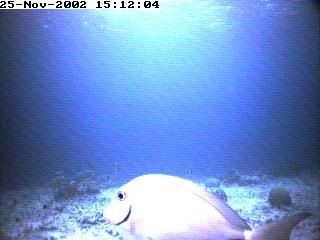 By bluetang on Monday, November 25, 2002 - 3:26 pm:
michael, a lot of airlines have changed their weight limits in the last month....down to 40 or 50. you have to pay extra for more...argh...
For a new view of Bonaire try www.pocruises.com then click on webcams and Arcadia. My friend's nephew is one of the officers on the ship which is docked at Bonaire today and has a satellite webcam
Julia, it's a strange view indeed. But......

I WANNA GO BACK!!!
By bluetang on Monday, November 25, 2002 - 5:29 pm:
kewl julia...ok, i am going to assume that the bow of the ship is facing south, so we would have, carib inn, divi, plaza...??? i am wondering what the docks are that are jetting out...ok, let's play a game...
Julia - That is a really strange view of Bonaire. I know it's just a function of the camera, but it looks way to high up to be a cruise ship. Looks more like a view from a passing plane. Of course, the bow of this ship is kind of a giveaway.

Michael
Considering the top of the Arcadia is presently the highest point in Kralendijk right now (about twice as tall as the tallest building downtown), that's not a bad comparison :-)

Jake
Glad I added a bit of fun. It is really strange, we have probably all seen this view from the sea, just not this high up, most of the planes fly the other way! I'm think the cam is quite high up on one of the telecommunication masts so is near to the top of the ship. I'll be sure to pass on the fact that so many BTers saw it.
By Glen Reem on Monday, November 25, 2002 - 7:45 pm:
Now, Who is going to post the pic for us latecomers???
By Cynde Lee on Monday, November 25, 2002 - 8:24 pm:
never thought about saving it and posting it...wonder when your ship will come in next glenn so you can see:-)
It was a web cam onboard the Arcadia ( an 800' cruise ship), that is at sea now. check it out in the morning. There are 11 passenger decks + the control towers so the camera is like 17+ stories off the ocean, was an interesting shot. Check out the faqs, they go through 35+ TONS of food a week!
http://www.pocruises.com/ships/arcadia/webcam/home.htm
At this link you'll find a list of all ships and cruises of P&O that will visit Bonaire the coming months...
---
Visit: The Bonaire WebCams - Current Bonaire images and weather!
The Bonaire Insider - the latest tourism news about Bonaire
The Bonaire Information Site, InfoBonaire
Search Bonaire - Search top Bonaire Web sites
---