BonaireTalk Discussion Group
Bonaire WebCams: Monday=Big Coffee
Bonaire Talk: Bonaire WebCams: Archives: Archives 1999-2004: Archives - 2002-07-01 to 2002-11-27: Monday=Big Coffee
---
By John Allen on Monday, November 11, 2002 - 8:03 am:
Good Morning Everyone!

It's wet, windy and dark here.
That means I need an extra big cup of coffee while I look at the Web Cam and put off going to work.
Hope evryone is well.

John
Enjoy the coffee John... Haven't had any myself yet, so that's first on my list now

How is the coffee in Bonaire?

Hill
By Mike Wood on Monday, November 11, 2002 - 10:29 am:
we did have a diver this morning.....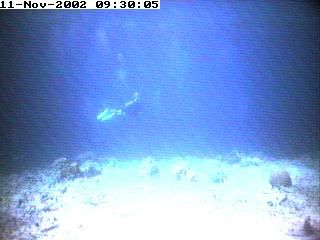 By Lee on Monday, November 11, 2002 - 10:43 am:
Hi John,Marc,Hillary and Mike...Good Morning to all. Storms last night did a job on us in this area...not pretty. 3 days and a wake up, not that I am counting or anything. Hillary, I'll be glad to let you know about the coffee when I get back! Lee
Morning ppl... Hillary, the capucino at Corzoli's is excellent
By Olaf on Monday, November 11, 2002 - 10:48 am:
G'day all ...

Was doing my trip report, when I one of my harddisk ceased to exist. Took me a while to get things back up, but here I am ...

Have to finish the report quickly now, promised Kelly it would be ready and waiting for her today ..

Everyone had a wonderful weekend ???
Good Day, Bon Talkers! Here's a small boat close in...dive boat? fisherman?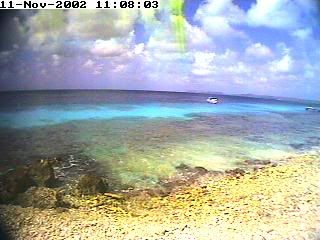 and Olaf I'm looking forward to your report
margarite
By John Allen on Monday, November 11, 2002 - 12:29 pm:
Lee,

I've been hearing about those storms today.
Sounds pretty bad.
Hope you and yours are OK.
11 days and a wake up for me.

Glad to hear that there is good coffee on Bon (I expected no less).
I am, however, bringing my own with me to supplement my bad habit.

John
Even your computer has PBD, Olaf?
Hello in here again!
I am expecting some robust Venezualan coffee when visiting Bon for 10 days the end of Feb into March.
Bad storms in Central US! I'm just getting the fringe here on the borders of NY & NJ.
Hill
By Lee on Monday, November 11, 2002 - 12:59 pm:
John, fortunately, yes, we had no problems other than some of the facia being blown off the house. It could have been worse, so I'm grateful.

I'm taking a little coffee down myself, but have heard a lot about Douwe Egberts brand coffee and am hoping I'll find it there.
The coffee at Cozzoli's was pretty good Hilary, it was expresso like.
Thank you Seb for the taste test @ Cozzoli's. Can I walk there from the Divi, ride the bike or take a car?
Regards,
Hill
Divers...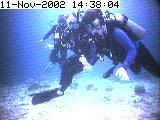 The best coffee you can get on the island is at the local highschool restaurant "Chez Nous". Excellent dinner/lunch, great service en very very good coffee ! Make reservations ! 0599 717 8120 (office hours)
Douwe Egberts is soooo good! I buy tons of it when we are on Bonaire and freeze it at home so I can enjoy it all year long. I like a strong, full bodied coffee and this certainly fits the bill. You can buy it at the local stores and make your own. It is very reasonably priced, as well. Much better=priced than the coffees they sell here in the NJ area.

John Allen: Is The Crawling Eye the same one as the 1950's classic sci-fi flick?? One of my all-time favs from those days! LOL. Uh Oh, guess I am really showing my age now!
Friends of ours moved from San Diego County to Kentucky to get away from some of the earthquakes and other things and they called last night to let us know they were OK after the storms plowed through their area. They are lucky....again...they have survived many fires and earthquakes, slides, etc, and can now add tornados to the list. Makes you wonder......CArole
By John Allen on Monday, November 11, 2002 - 7:34 pm:
Carole,

Yes my email name crawlingeye is a reference to that horror classic of the 50's.
A Boston area TV station would show "the Creature Double Feature" on Saturdays when I was a kid. So between that and "Mystery Science Theater 3000", I was terrified by the film as a kid, and thought it was hysterical as a much older (20's and 30's) kid.

John
Here are some pics that you all missed.


I cancelled that post. How'd that happen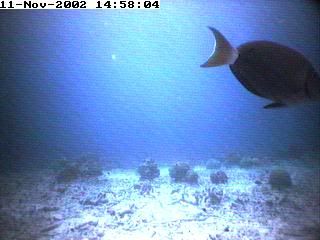 Lovely sunset today. I will see my next sunset in Bonaire(in person) on 12/4.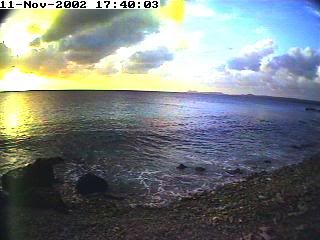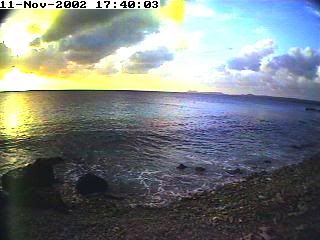 margarite
Hilary you can absolutely walk to Cozzoli's from the Divi, it is about a ten minute walk to town.
---
Visit: The Bonaire WebCams - Current Bonaire images and weather!
The Bonaire Insider - the latest tourism news about Bonaire
The Bonaire Information Site, InfoBonaire
Search Bonaire - Search top Bonaire Web sites
---