BonaireTalk Discussion Group
Bonaire WebCams: Beautiful Tuesday!
Bonaire Talk: Bonaire WebCams: Archives: Archives 1999-2004: Archives - 2002-07-01 to 2002-11-27: Beautiful Tuesday!
---
Good morning everyone!

It's a beautiful day on Bonaire!

I can't wait to see it in person, and I will Tomorrow!


You lucky thing Renee. I bet you just can't wait to get there can you. Hope you're gonna give us all a wave too. Annie B

Blikje in her usual early pose.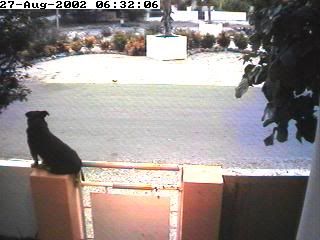 Of course I'll give a wave! You'll be able to recognize me by my goofy grin!


We leave bright and early tomorrow. I can't wait!
Divers!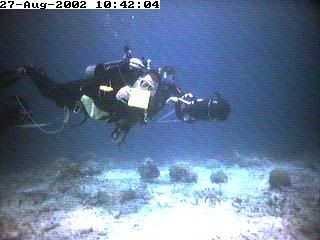 It looks like they used scooters to get to the Reefcam. Cool!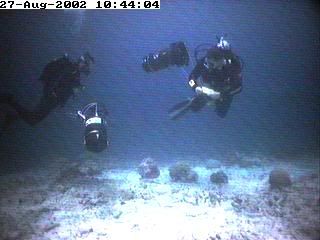 Bye, gotta Scoot!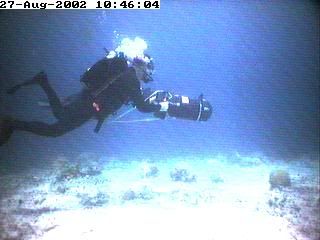 Renee, enjoy your stay and behave
By Walt III on Tuesday, August 27, 2002 - 1:13 pm:
Hi all - that was Bob Killorin and I at the cam this morning on 2 submerge 18 Scooters. We left Capt. Don's Habitat & cruised along at 120+ ft. to the Coopers Barge. Then we slowly ascended to 60 ft and ended up at the Reef cam. We made it from Habitat to the reef cam in 21 minutes. We stayed there for 5 or 6 minutes then back to Habitat in 15 minutes. We played some, zooming through a couple of groups of divers between Habitat and Buddy Dive. You should see the look on their faces as we flew by.

A 4-ft Barracuda followed us for several minutes on the way to the Coopers Barge. I don't think it had ever seen divers covering so much sand so quickly. We were able to fly in formation with a school of tarpon for several minutes on the way back to Habitat. I'm not sure they knew what to make of 2 divers that could keep up with them effortlessly.

Submerge 18 Scooters have 50 lb. of thrust/pulling power. These are not your average Scooters. You have to snap them on to a crotch strap because you can't hold them for very long or your arms would get too tired. We covered close to 2 miles in one hour on a single 80. They are also depth rated to 400 ft just like us. We will be able to cover some serious reef on our deep exploration dives. This Is Fun!!

We are headed to the Jammer with them Thursday and Friday - no more long surface swim. Get in, descend, and be at the Jammer in less than 3 minutes. We are having fun NOW.
VISITERS!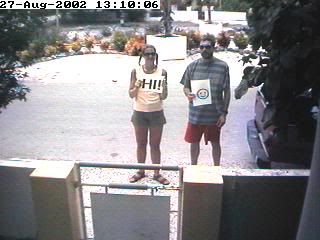 Walt, that sounds like serious fun!!!
Martin,

I don't know. 50 pounds of pull at a crotch strap? Sounds painful (say that in a high pitched voice for the full effect) :-)

Jake
By Walt III on Tuesday, August 27, 2002 - 2:29 pm:
Proper positioning is everything! Also a 2-inch strap would be better.
By Cynde Lee on Tuesday, August 27, 2002 - 2:42 pm:
walt, thank you for the mini trip report...wow, flying in formation with tarpons...how fun is that??? i think girls could handle the crotch strap much better
walt, in the pics above, the scooters are "hanging," i see the "straps" going from you to the scooter, but what is keeping the scooter "floating" and not crashing to the bottom? do they have air bladders in them, ballast tanks????

oh, gerrit, nice of you to peek in...i am having major BPD...it has been a year since we were celebrating my birthday on boniare....

By Walt III on Tuesday, August 27, 2002 - 2:49 pm:
The scooters are neutrally buoyant
Walt,
I enjoyed your short dive report. Keep them coming!
Ida
By Cynde Lee on Tuesday, August 27, 2002 - 3:12 pm:
oh jeez jake, i didn't mean my comment to sound bad. i just read it, and i truly meant it in an innocent way! really!

thanks walt...i thought maybe you were playing "houdini" tricks in front of the cam..."now watch the scooter float as if it were in mid air...er...water." is there a website that describes these scooters? i am now very curious about how they can be neutrally bouyant, and how the work...curiuos minds


here are a couple of fish, looks like they got caught in the wake...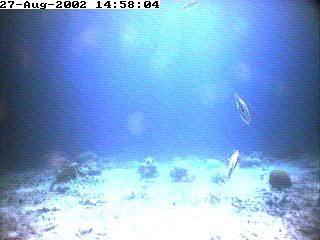 Cynde, It didn't sound that nasty to me...

Jake, I have had a training on a maritiem training centre here in Holland. We went there with a group of our diving team. They pulled us out of the water with a "Harnas" (sp) that was pritty close to a certain part of the body. You knog me, I'm a bit over 50 pounds, but it was no problem.. Honest...
By Cynde Lee on Tuesday, August 27, 2002 - 4:25 pm:
thanks martin, i feel better...just watch those cats and iguanas! i want to know why walt and bob didn't clean the cam why they were there...how wwude!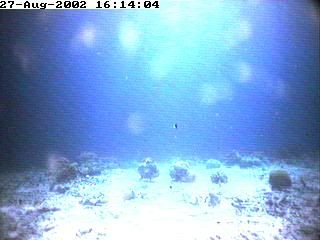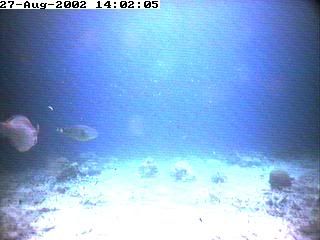 Hello everybody,
Back from work, at last ! Nice pics today. I posted this one of my own pics regarding the torpedo. When we stayed at Divi Flamingo Resort in June, the dive masters team had great fun with this kind of torpedo, but unfortunately we didn't test it
.
I wish every one going to Bonaire this week end a nice a marvelous stay and hope they appear on the cams. Jean Paul and I are going to Sharm el Sheikh on the Red Sea on September 14th for a whole dive week. Definitely too short to go back to Bonaire from France. Sorry, Jake for this infidelity...Time for us to go to bed, have a nice night everybody.
Oops, problem with the pic, let's try again

Really got a problem

let's try again

OK, forget it, impossible to load this pic. Is there any problem with you too ?

Looks like a boxer doggie going for a late afternoon stroll....maybe? "Just a walkin' the dog"......Carole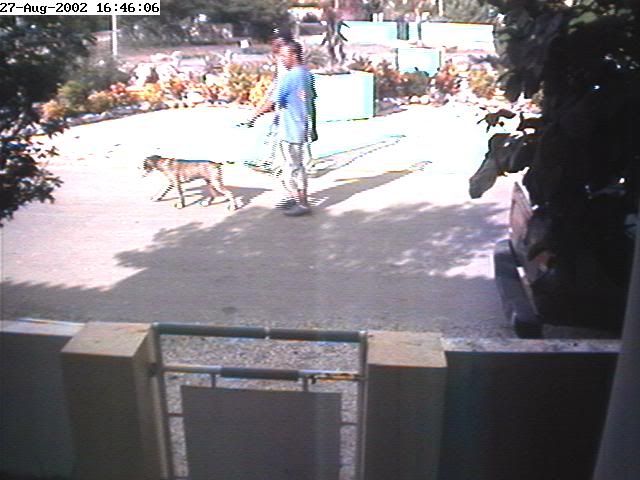 My last try, let's see if it works.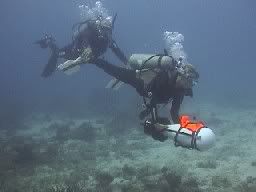 By Carol Eddy on Tuesday, August 27, 2002 - 5:33 pm:
Hi Martine,
Haven't "seen" you in awhile......your picture did finally come post. Sharm for a week! I hope you have a great time.....I'm sure it has changed since I was last there...
By Carol Eddy on Tuesday, August 27, 2002 - 5:35 pm:
Who's yellow tail could that be?!?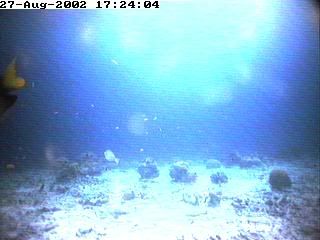 Cynde, Walt and Bob didn't clean the webcam 'cos they were probably scootin' by tooooooo fast. Annie B.

Walt nice report, enjoyed that exceedingly.
By Cynde Lee on Tuesday, August 27, 2002 - 6:54 pm:
annie b...i was teasing walt (don't be mad walt
...scoot away Martine, what fun!
By Glen Reem on Tuesday, August 27, 2002 - 7:03 pm:
Hey, Walt,

Sounds as though you could adapt a parachute harness to the scooter pulling. Their leg straps are designed to avoid problems from far greater 'upward' loads.
Sorry folk, I really had a computer problem when posting pictures, impossible to catch my "webcams pics file". I finally moved the torpedo pic to my "smileys file" I couldn't succeed to move each time I wanted to upload the pic, and asked Jean Paul's (my favorite webmaster) help. It seems ok now but don't want to test again tonight. This is a real good night now. Sweet dreams everyone, a new day has started here and I need to sleep.
Hey Cynde,I was only teasin' too. Anyone got a submarine that a non diver can go down in. Giggle. I really do love reading about all your experiences. Annie B.
By Cynde Lee on Tuesday, August 27, 2002 - 7:54 pm:
annie, they do make those submersibles that you can go in...hmmmm...
By Walt III on Tuesday, August 27, 2002 - 8:06 pm:
Glen - good point I will have to look into something similar. Then again getting out without the proper releases could be a problem.

Sorry we didn't clean the lens!
Walt, Your are forgiven. Annie B.
By Cynde Lee on Tuesday, August 27, 2002 - 9:05 pm:
yes walt, this time...i am sure you were having so much fun that was the last thing on your mind! I am just jealous
---
Visit: The Bonaire WebCams - Current Bonaire images and weather!
The Bonaire Insider - the latest tourism news about Bonaire
The Bonaire Information Site, InfoBonaire
Search Bonaire - Search top Bonaire Web sites
---