BonaireTalk Discussion Group
Bonaire WebCams: Friday!!! (8/9)
Bonaire Talk: Bonaire WebCams: Archives: Archives 1999-2004: Archives - 2002-07-01 to 2002-11-27: Friday!!! (8/9)
---
Good morning everyone!

It looks like the fish are awake too.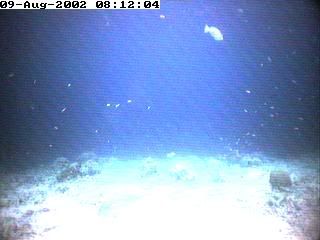 Just 19 days until I'm in Bonaire!!
Lucky you!! Please bring back pictures to share! :-)
Early morning pic from the Archives.... anybody have any ideas what this is? Maybe it's just the strange early morning light.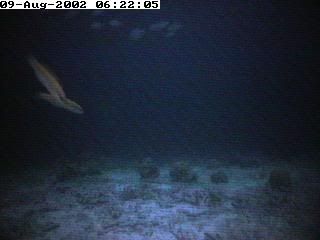 Here's an 'enhanced' image from the larger pic. It's adjusted for brightness/contrast. It almost looks like a turtle to me.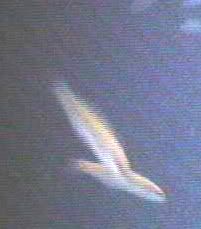 The more I look at it, I'm convinced it's a small turtle. It seems really thin (again, maybe just the shadows) but I can make a good argument for a distinct head and front flippers.

Oh, and Renee.... only 15 days for me
. We're flying out of O'Hare and I can only assume from your profile that you will be also. Any experiences on Air Jamaica out of O'Hare that I need to know about? Also, there is a small group of folks that are planning on getting together on the island sometime on Thursday the 29th for dinner. If you're interested, e-mail me direct and I can let you know what we all decide.

Michael
This will be my first time on A.J.

I am little skeptical of the arrive 3 hours before the flight policy though. That would mean we have to get to the airport at 3:00AM!! I've been to O'hare on other early flights, and it's not that busy mid-week. Mondays and Fridays are a different story! I think we'll get to the airport between 3:30 and 4:00AM.
I think the picture is two fish overlapped. Yellow wrasse? I'm not good with the fish names yet.
Hello everyone, I will have to agree with Renee, the pic looks like 2 fish...Leaving for the islands is a good reason to get up at any time, its comming home and the 6am American Eagle flight that was not fun.
I agree, coming home is a drag.

Maybe I just won't do that part!
Yeah.... 2 fish. Now that I came back and looked at it again, I agree. Must have been the excitement and anticipation of getting down to the reef.

We're also planning being at the airport at 3:00 am. That may sound extreme to some people, but we're flying out on a Saturday morning and I'm not about to risk missing a flight or getting delayed through security. I figure I'll be so jazzed for being on vacation that the idea of sleeping isn't even going to cross my mind.
Hi Everyone,
Just a quick peek in,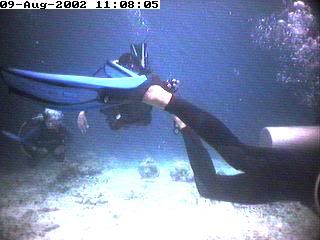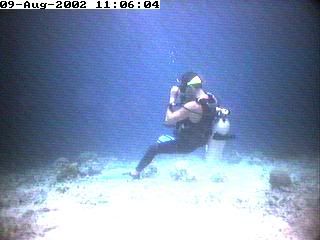 Divers

Have a great holiday Renee, and Michael, It wont be long before you are in Bonaire.
more divers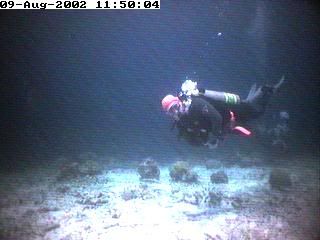 we're being Mooned!!!!!!


Oops!

Full moon!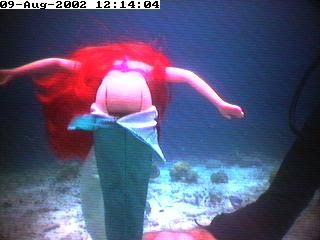 Our little mermaid has found some friends!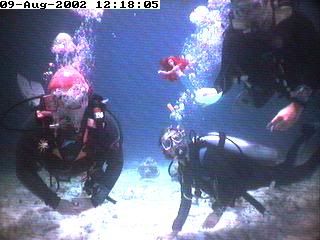 Obviously people with too much time on their hands.


Here are a couple shots from when the connection was down earlier this afternoon.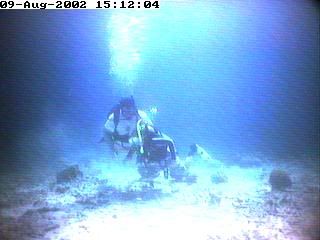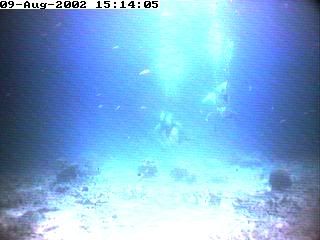 By Cynde Lee on Friday, August 9, 2002 - 4:39 pm:
afternoon all...great captures. here are a few that got missed...

nun diver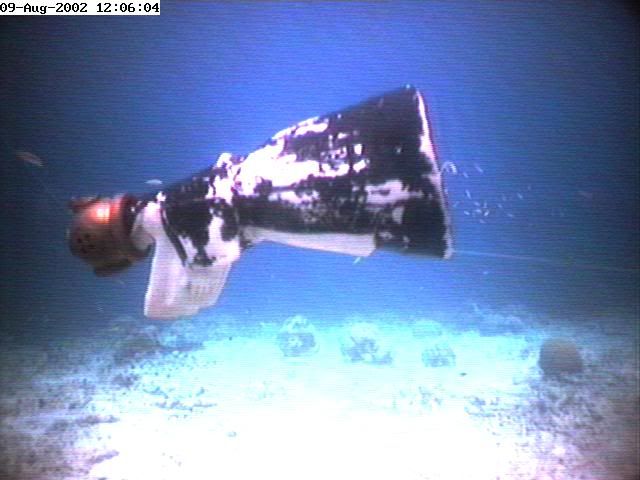 horse diver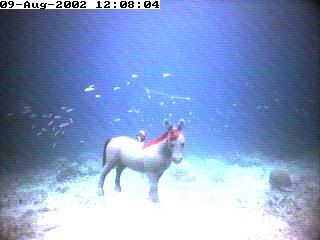 These divers have way too much time on their hands! ... and room in their luggage! But I wish I were there with them being silly :-)
Whew, glad the connection is back! These pranksters must be fellow BTíers.

I donít know how they fit all this stuff in their luggage. Usually I can barley close mine with all the fins, mask and stuff.
Hi Everyone,
Seems I missed all the action,Certainly livened up the reef cam today with all the colourful toys. I wonder who the pranksters were.
Ida should be there by now (I wonder!)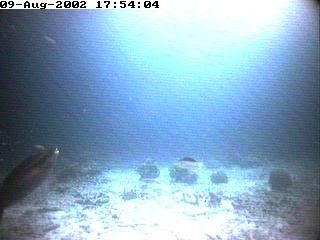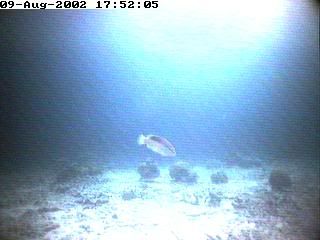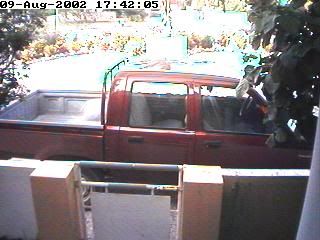 Here come the sunsets.


Truck's back again.

Here come the sunsets.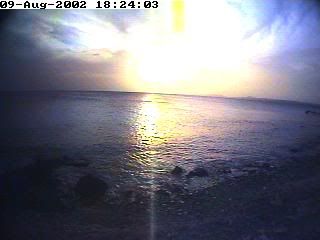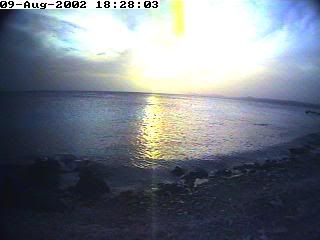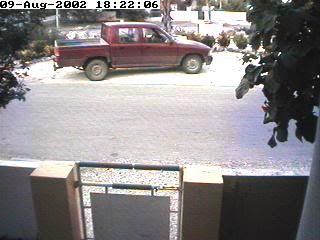 truck's back again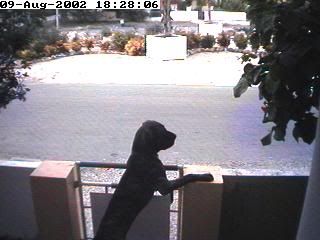 Grendal on the lookout
Great captures today everyone!! I missed all the fun...packing up my office, seeing patients in between, signing papers for the new job. See you all soon from a new computer...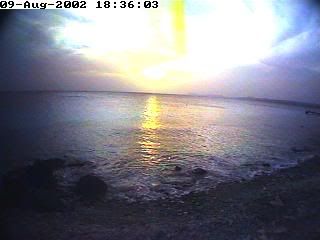 Hi Barbara, I missed it all too, At first I thought it was Rusty up to her tricks.
Are you looking forward to the new job Barbara?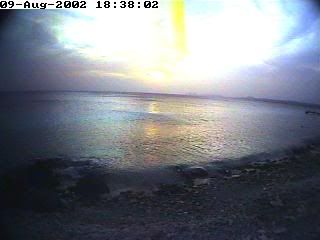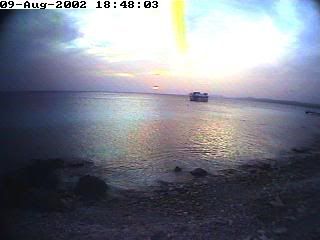 Here's a boat, I wonder if we'll see any night divers.
Night Diver!!!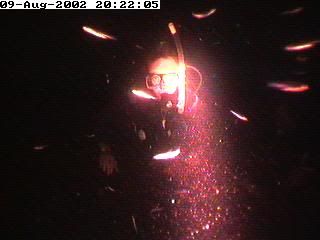 More captures...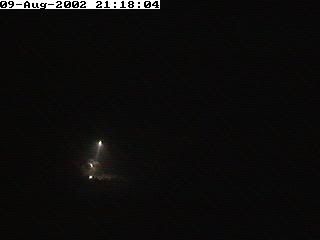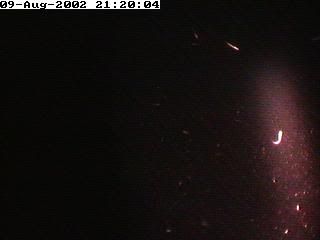 Someone is on the beach! GoodNight!

My guess about the night divers is Bas and company.

Hey Bas.... how's the water tonight?

Here's one that didn't get posted - a little explanation please?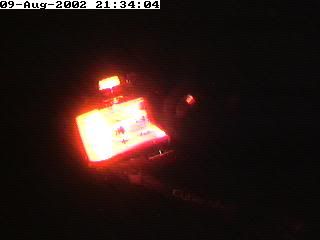 By Bas on Friday, August 9, 2002 - 11:42 pm:
Hi Michael,

Yup, that was us :-) Earlier today with Ariel the mermaid barbie etc. That dive was with Seb Schulherr and his wife. That was fun. First rigging up all the toys and a nice 82 minute dive.
And tonight with Tim (Ida's husband) and his friend (eww I'm so bad with names) The water was pretty nice. Pretty good dive aswell with some neat stuff. I love my new dive light. I noticed that when I shine it up close to lobster, squid, puffers and some other fishes they approach the light so I can lure them out :-)
I have no idea about that last pic you posted. Did that come from the reefcam??
What a lot of fun for all of us at the Reef Cam today, Bas and Seb! Thanks for the entertainment...very funny and imaginative, too! Carole
Geez... a flashing mermaid, a ghost appearance at the gate, a UFO at the reef... Where's Fox Mulder when you need him?
By Janeece on Saturday, August 10, 2002 - 8:37 am:
hahahhaha just popped in before bed...and whoa what A GREAT DAY...hahah what excellent fun..thanks for that whooohoooooooooo
By Janeece on Saturday, August 10, 2002 - 8:40 am:
That nightdive pic is EXCELLENT..wow that dive must have been way cool :-)
Bas,

That last pic that I posted was, in fact, from the reef cam. Still wondering exactly what it was. By the way, how far away from the camera were all the toys?

Michael
Michael, I bet if you ask Cecil to take a good look at your capture from the reef cam, he could figure out what it is :-)
---
Visit: The Bonaire WebCams - Current Bonaire images and weather!
The Bonaire Insider - the latest tourism news about Bonaire
The Bonaire Information Site, InfoBonaire
Search Bonaire - Search top Bonaire Web sites
---