Louise...I feel pain, but not even close to the depth of the pain you are feeling. I'm not even going to try to say something, because there are no words.

What I do want to tell you, is that I LOVE YOU...I picture you sliding off the back of that boat on Klein, snorkeling, smiling, me swimming 2 miles to the Belefonte doc to get your skin, sitting in the Bel jacuzzi getting eaten by mosquitos watching the sunset, having bbq weenies watching the sunset, chatting, hugging, putting a hello kitty tattoo on your neck to bug Baby Jerry. YOU ARE PRECIOUS AND SPECIAL...to a lot of people.

PLEASE PLEASE PLEASE, post whatever you are feeling, hurting, venting, missing, whatever. This is YOUR PLACE right now to help grieve...and we are here with open arms listening and in a couple of weeks will give you more love and hugs that may even break a rib (well, we know that Mr. Bill may break a rib). When you are feeling this way, close your eyes and imagine all of us in a circle holding you up....let us be your shoulders as long as you want....we aren't going anywhere...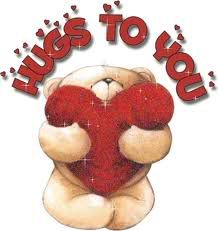 WE LOVE YOU!!!!!!!!!