BonaireTalk Discussion Group
Community Chat: Happy Sunday
Bonaire Talk: Community Chat: Happy Sunday
---
Quick peek in, only to find no thread yet!

Hope everyone has a wonderful day. It was bright and sunny as I was heading into work at 6:45 this morning. I left Ken with a very cheerful Connor and sleeping Clio. They had their first EVER sleep over last night! We had a very nice day with them and Clio helped me plant the front barrel with pansies


Be lurking from the dispatch desk
I am doing taxes today. Oh joy!!!
Have to share our little Clio by the flowers she helped plant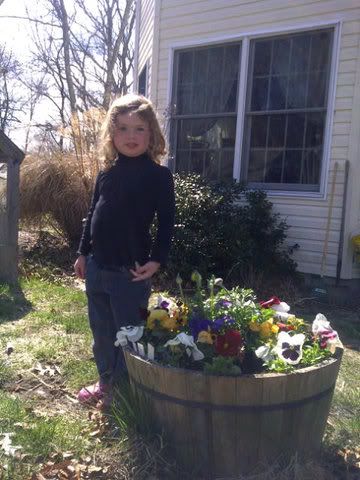 Good Morning, Ruth, Jim and everyone to come..

Fogshine in the Pocono's today..ugh...guess I'll have to rely on the sunshine inside us today...



Have a beautiful Sunday! ♥
cute pic of Clio, BTW...
Hi Jim
My guy had those things done 2 months ago
Good luck!!!

Hi Donna
Here's hoping the sun comes out soon!
By Meeeeee~chelle (Extraordinary BonaireTalker - Post #2220) on Sunday, April 10, 2011 - 9:56 am:
Happy Sunday all..cute little girl Ruth

Donna WTHeck is "Fogshine" ??
Jim..I just dropped my taxes off at my CPA last week...he was not very excited..procrastination is my middle name...chararcter flaw LOL
Much to do today, then taking my son, Ben, out for his 30TH birthday din-din...
How in the heck did I end up with a 30 year old son...That's just WRONG hahahaha
I'll be a lurkin'

(((HUGS)) and more (((HUGS))
Good AM to all. Still damp and dreary here but better weather is in the forecast for this afternoon and tomorrow.

Ruthie how many times have i told you never plant anything you can't either eat or smoke. My mistake pansies are edible and maybe even smokable.

Tom don't know if you've found the right bucket hat yet. I found mine at Home Depot. The bright orange color brings out the green in my eyes and it is the perfect accessory for my annoying orange outfit I think Jerry will love it. One size fits all. If you want one let me know.

Safe day to all

Peck and a Poof
PP, pansies are edible!






If I could ask for prayers for a friend's wife/family. He was killed in a car accident yesterday. One of my brother's best buddies from high school...thanks...
By Meeeeee~chelle (Extraordinary BonaireTalker - Post #2221) on Sunday, April 10, 2011 - 10:29 am:
Prayers, comfort, love and strength sent to your friends family Ruth...so much sadness for so many this year
By brenda (Extraordinary BonaireTalker - Post #1327) on Sunday, April 10, 2011 - 10:44 am:
Praying Ruth...


Michelle, Fogshine = trying to think positively!


Brenda, once again love your song!


Still froggy here...oh well...at least it's not cold and sn*wy...
Good Sunday to y'all
Trying to get everything done before we take off next saturday - - - bookkeeping.....bleah....raining outside,,,,,,,,,,,bleah - gotta wax a girlfriend later today....bleah-----BUT 8 SLEEPS TO BONAIRE!!! Look out red eye - the Canucks are Coming!! WOOHOO (not to be confused with A or someones Wahoo..... (chuckle---snort)

Love to your friends family Ruth

What a cutie Clio is!

Great tunes...
Heading home


Time to finish helping Ken babysit the grandkids for the rest of the afternoon
Stayed home after church today to save on gas $$$ and accomplish stuff..bills and such..hope everyone had a great Sunday..

It's supposed to be in the 80s here tomorrow and then the 50s the rest of the week...weird!
---
Visit: The Bonaire WebCams - Current Bonaire images and weather!
The Bonaire Insider - the latest tourism news about Bonaire
The Bonaire Information Site, InfoBonaire
Search Bonaire - Search top Bonaire Web sites
---