BonaireTalk Discussion Group
Trip Reports: Snorkelguy & Snorkelgal, the final chapter…
Bonaire Talk: Trip Reports: Archives: Archives 2000 to 2005: Archives - 2002-09-26 to 2003-03-31: Snorkelguy & Snorkelgal, the final chapter…
---
November 29th – Carry Me Back…

Monday morning arrived and we were up early and jumped in the water at Buddy Dive to take one last peek at the fish. It was short but sweet, and without wetsuits as we wanted them to be dry for travel. We finished packing and big Casper and Koe good-bye and headed off to check our luggage in. We heard that you can check your luggage in early and then come back later for your flight. It would have worked out great, expect the luggage tag printer was broken and nobody was getting checked in. After standing in line for an hour things finally started to move and we got out luggage checked. During our stand in line we met Matt who had just flown in from Aruba, via Curacao, trying to get to Montego Bay for a tennis tournament. Apparently there had been wide spread power outages on Aruba and it was playing havoc on travelers. He was a nice chap and we offered to take him into town to kill the next 4 hours until our flight.

As we were driving back into town we saw the most amazing donkey territorial challenge. To males were fighting, which quickly turned into one male chasing the other and biting him in between the legs. They both darted in front of several vehicles. Then 3 females who were trying to get out of the way darted in front of the cars. Last the two males ran across the road one more time in front of us and ran into the sand flats nipping at each other.

We had enough time to catch one more watermelon juice and margarita pizza.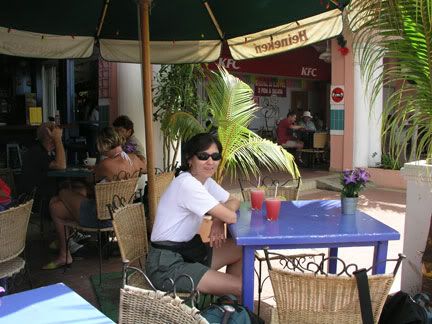 We walked around and took in a last few visions of town.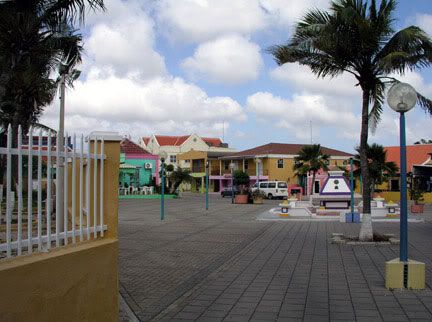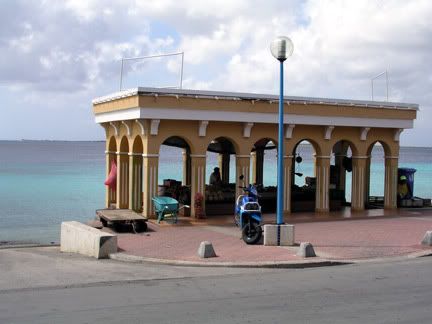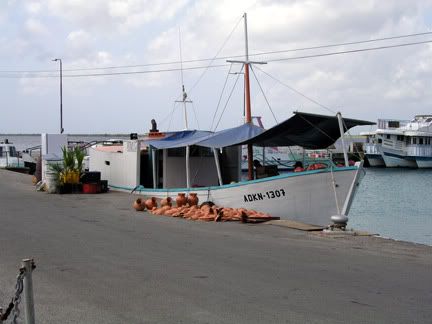 and of course there were others falling in love with Bonaire, as we did 3 years ago…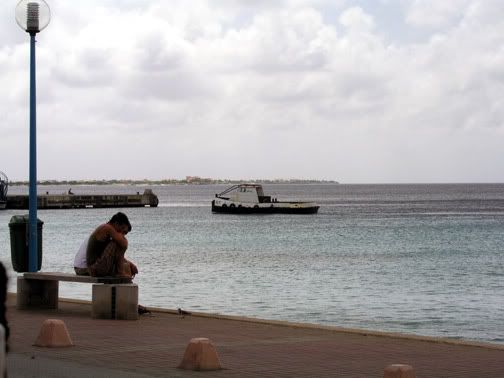 We met back up with Matt again and brought him back to the airport with us where it was turning into old home week as we meet up with many nice folks we had met along the way…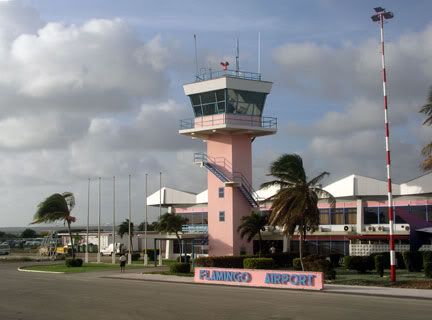 Gary & Kathy Long from Houston (fellow BTer's)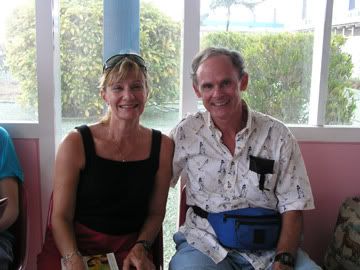 John & Kate Allen from Massachusetts (fellow BTer's)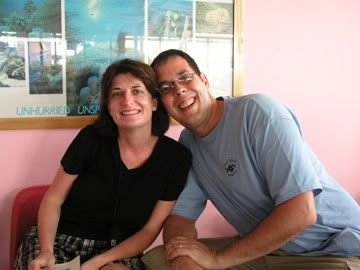 this is us, Scott & Emi



and Bob & Sabina and David and Karen who we got stuck in Jamaica with. They helped make it the best of it, but that's a story for another day.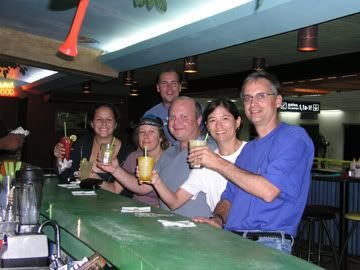 It was time to walk past the stickers of a 1000 dive shops from all over the world…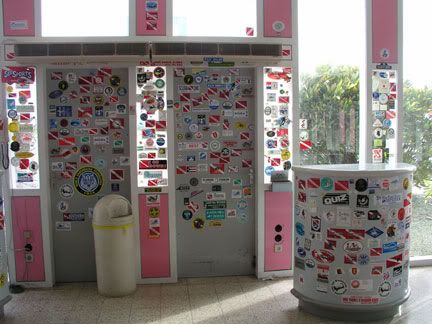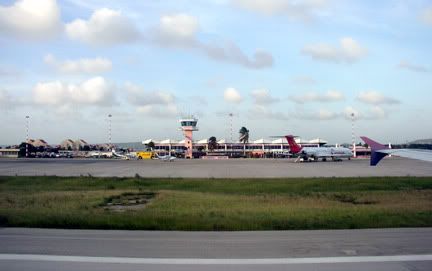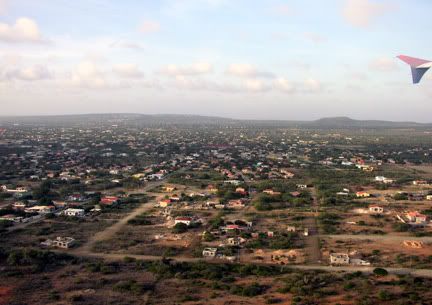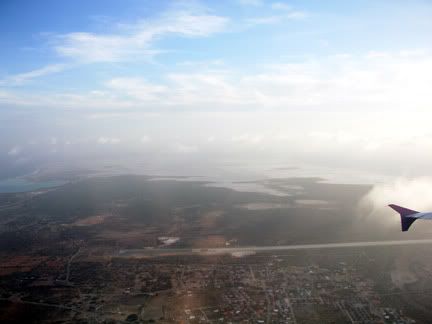 It's time for us to hang up our wetsuits and my long winded stories and settle down on this side of the camera and watch the fish and new friends on Bonaire.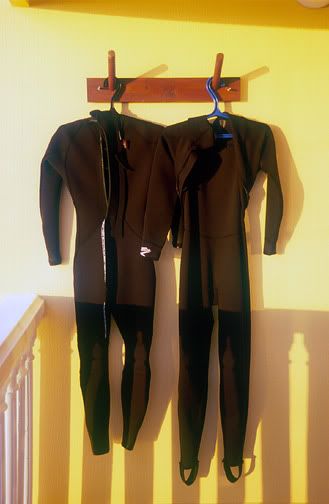 Thanks to Jake & Linda, for without whom this would probably have never happened,
Mrs. Johnson of Air Jamaica for being the most courteous customer service person I've ever dealt with in any airline,
Andy from Bonaire Pros for the great deal,
All my friends new and old on Bonaire Talk,
And most of all, to my lovely wife who has helped make the journey the best part…and there will be many more.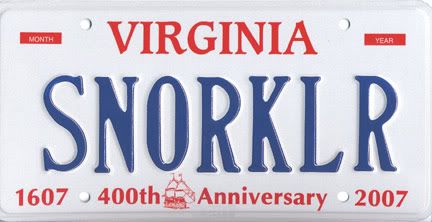 BTW it was Friday, not Monday...oh well...
By Kay Powers on Monday, December 16, 2002 - 12:43 am:
Snork,
You deserve the award for the best trip report!
I hope one of our gif guru's will post one for you. It was quite the report. Thanks for the time and effort you put into it to share with us.

I am going to get a shot tomorrow to help with the PBD illness I suffer from.
I agree Kay

Thanks 4 another good-day start Scott...
I'm a bit sad though
Sigh, the last one...
Scott, here u go:





U deserved it!
By Kay Powers on Monday, December 16, 2002 - 6:59 am:
Scott has now set the standard in excellence for trip reports! I agree with Kay too! :-)

Jake
What a great trip report, and wonderful pictures. Thanks Scott! Have you considered a creative writing career?
Fantastic report, Scott, especially the wonderful photos. This Final Chapter made me so "homesick" for Bonaire, I had to fight back tears when I got to the dive shop stickers at the airport. Then your photo of the wetsuits just did me in...

Thanks for all the work you and Emi did to bring us your Bonaire adventure!

Best regards, -Deborah
By Gary Long on Monday, December 16, 2002 - 11:38 am:
I second that. Scott, a real great job it was a pleasure meeting you and Emi and the other BT's.
By Tom Erhard on Monday, December 16, 2002 - 1:24 pm:
Scott,

I agree with all the above comments. Such a great read. The last two installments have my PBD flowing again - and we left in August! Your pics bring back GREAT memories! Thanks - Tom
By Josie on Monday, December 16, 2002 - 1:32 pm:
WOW, Scott!!! I'm scheduled for end of January, but I'm just about ready to go and book sooner. I can hardly wait now!!

Thanks for all the enjoyment you've given us all. Great job!

Now, when are you going back?
I absolutely concur with the above posts about Snork's capture of Bonaire. I enjoyed every word and picture. This time next week, Bonaire will be my reality, and not my dream. Thanks again Scott!
Thanks everyone for your kind words and encouragement. I'm glad I could provide you with a little something to brighten your day.
It's certainly fun to write (or Bonaire Talk) about something you like, and the more you like it, the easier it is. So I'm sure it comes as no surprise that this was a lot of fun for me too!

It was great to meet you too Gary & Kathy.

As for when I'm going back, well… I have a vacation debit to pay first. For every vacation we go on in a warm climate, I owe my wife a vacation in a cold climate (you know snow, ice, & shivering). I should be back from the polar ice cap in time for the next decade…

Honestly I hope very much to go back in about a year. Perhaps for New Years next time or a nice February break from light deprivation…
Excellent report, Scott!

I hope you do make it back to Bonaire soon, so we can all live vicariously through you again. You're a great storyteller!
Scott I don't know what to say. The best trip report ever. The worst part was getting to the end. I also vote for you starting a new trip report next week, tell the same story. Thanks ever so much for sharing.
I agree with all compliments posted above and with other chapters. Thanks so much for the wonderful photography - you did a great travelogue! And it helps my pre-BD...60 days and really counting. :-)
By Susan Taft on Monday, December 16, 2002 - 4:51 pm:
Thanks for your many wonderful installments -- your stories and pictures brightened many cold days here and has helped to heighten my pre trip excitement and anticipation for our return in February. You have certainly set the standard for reports -- and I do not think I will ever be able to live up to it!
Scott,
you need my theory on cold weather vacations, just read my profile. If you are paying for a vacation and have to put clothes on to enjoy it, it AIN'T a vacation.
By the way, that is a great trip report. We are booked @ the end of January and I can not wait.

Mark Meyer
Lancaster PA
Scott:

For the first time in ten years, my husband and I are not able to make our annual Bonaire visit. Through your entertaining trip reports and fantastic photography, we have been there. Thank you!!!

Carol Collins
Snork & Emi....mucho hugs to you both for sharing your fabulous trip and experiences. I will go back and start reading them all over again, and again, and again....sniffle....no more "new" ones. Thanks ever so much for taking us on vacation with you and Em...see you soon! Carole
By Karl H on Monday, December 16, 2002 - 9:16 pm:
Scott,

like everyone else I, too, enjoyed your report immensely. As Jake said, a new standard of excellence has been set, one that will be tough for any of us to live up to in the future...

And Emi, cold climate vacations? Brrrrrr. I hibernate in one ten months of the year.

Canada signed the Kyoto Accord today. Chucks! I am all in favour of global warming...!

Karl
snork, printed out your novel yesterday and read it last night with a glass of wogga...very very good. i think you should submit it to the bonaire tourism board. it really was good, except that it made the bpd even worse! now i have a whole new list of areas that i want to check out in june!
---
Visit: The Bonaire WebCams - Current Bonaire images and weather!
The Bonaire Insider - the latest tourism news about Bonaire
The Bonaire Information Site, InfoBonaire
Search Bonaire - Search top Bonaire Web sites
---