July 24-Aug 6, 2008

Bon bini to Bonaire…and how cool is it that the airport
meet-and-greet includes a welcome from a couple of
good-looking loras. They looked a lot better than we did
after 24-hours of travel, but we were energized to be returning
to our favorite dive location and couldn't wait to get wet.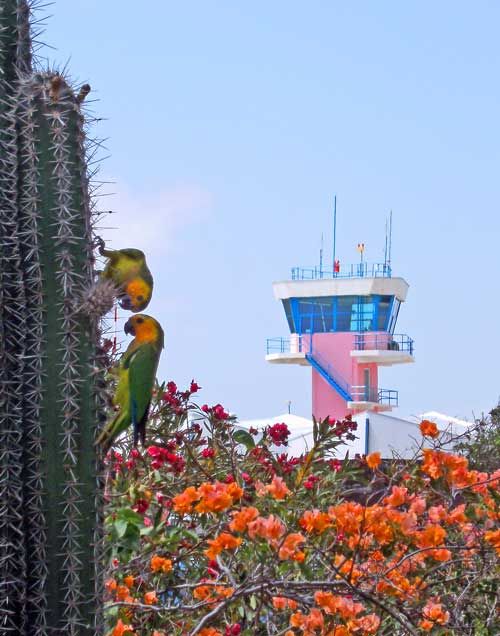 After emerging from another eye-popping dive at Invisibles,
we looked at each other and had the same thought,
"Let's do it again!" We off-gassed, replaced the tanks,
jumped in, and dove it again in the opposite direction.
Invisibles has that effect on people…we're total junkies!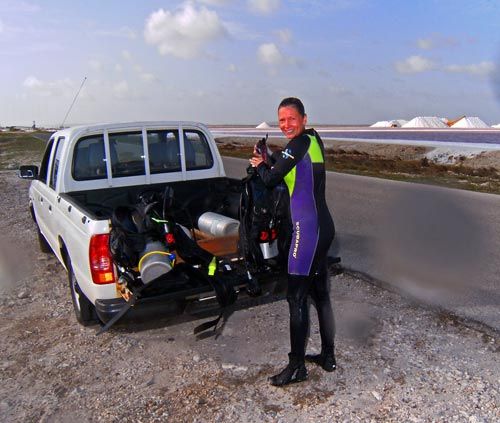 For two weeks, the entrance to Invisibles was occupied
by a huge ball of silversides, so thick you could barely
track your buddy in the shimmering cloud.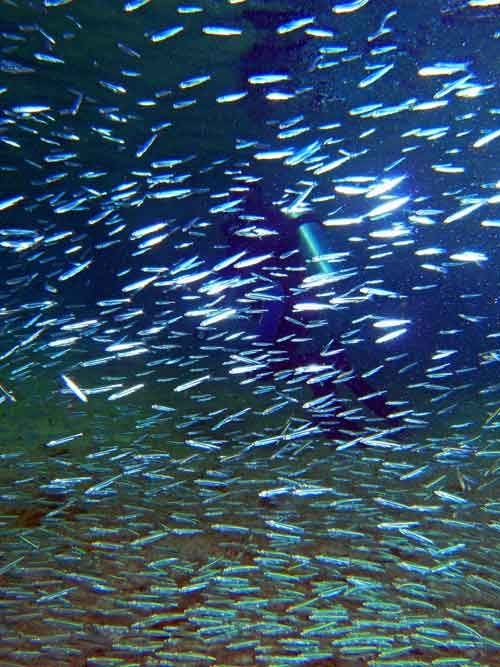 A green moray gave us our best eel moment here.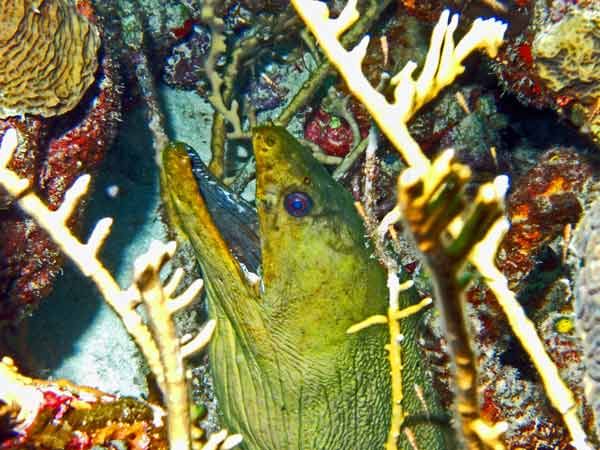 Watching the eel in all its modes of locomotion is a study
of aqua dynamics. This eel started with a gentle glide
above the reef.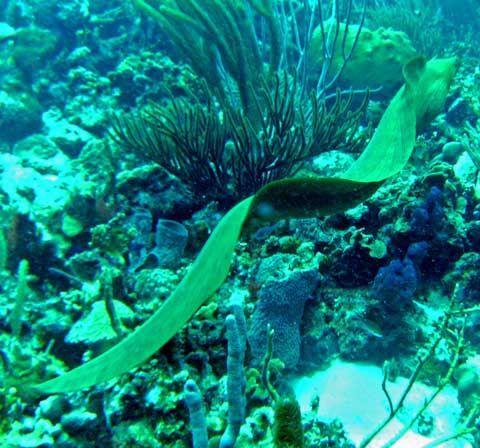 Next, he shifted to a slither across the coral.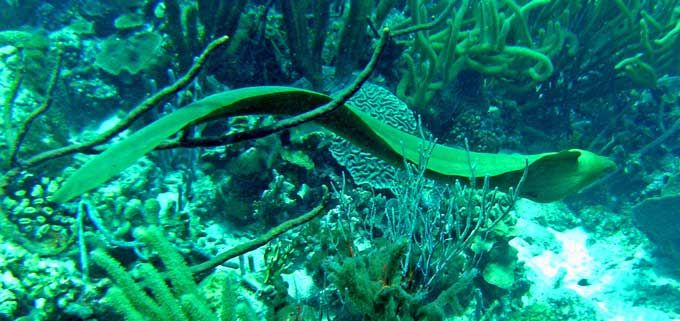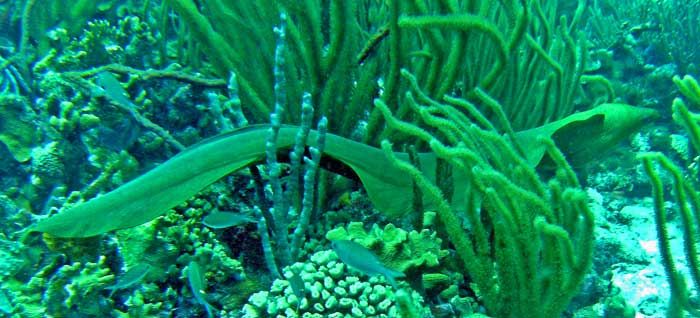 The concluding move was a morph into Christmas ribbon candy…
and away he slithered.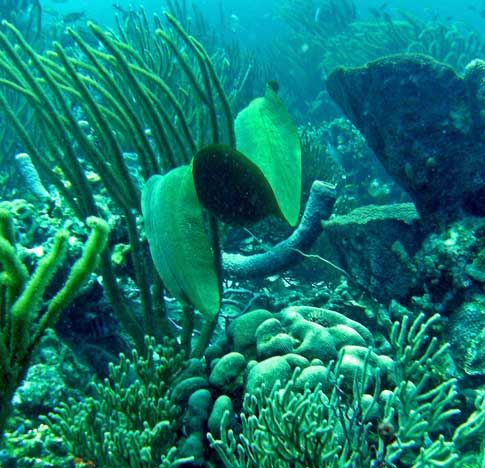 Not to be out performed in the undulation department,
this ray provided a vicarious magic carpet ride.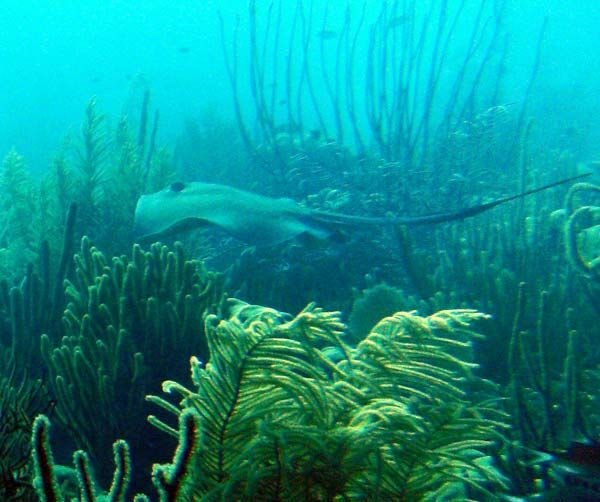 This hawksbill was able to reveal something of his history.
Usually tags are encrusted and a challenge to read (especially
on a flapping fin). From a distance, the tagged looked
free of algae and possibly legible.




Sure enough, when zoomed later on my laptop, the tag
was enlarged to a decipherable size (but is the third digit
a zero or eight or six or???)




And the hawksbill didn't seem bothered at all by
the identity theft.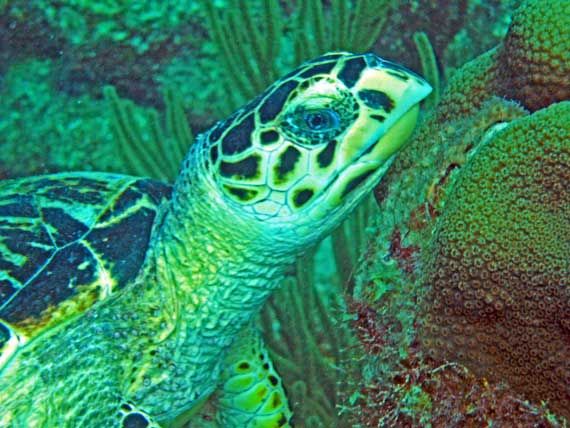 The Salt Pier is always ready to put on a great performance.
Maybe our grade school art teacher was right about
the importance of framing art, teaching us that vertical lines
lead the viewer to focus at the highlighted beauty.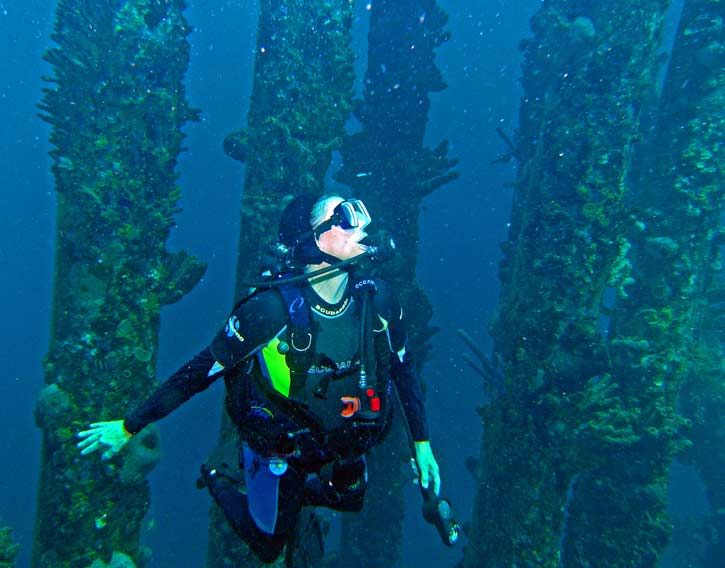 We try to count pilings so we can track our location.
But we end up getting distracted, losing track and
becoming totally disoriented and lost…but who cares…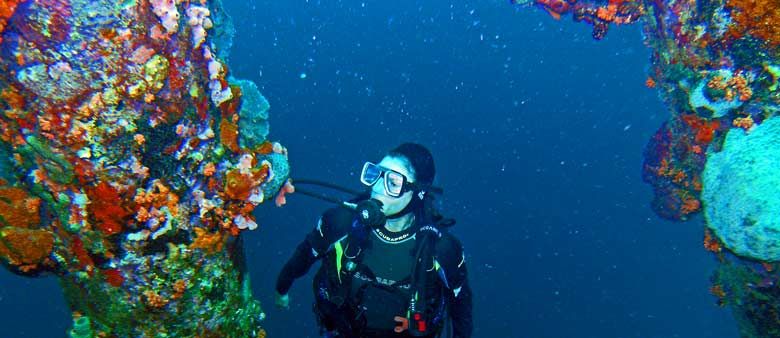 Colors are surreal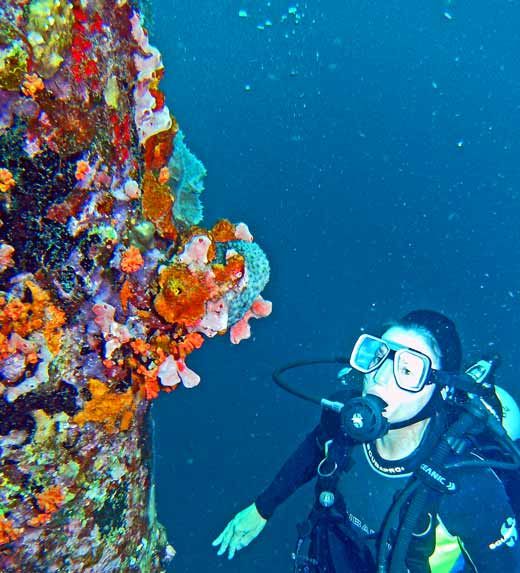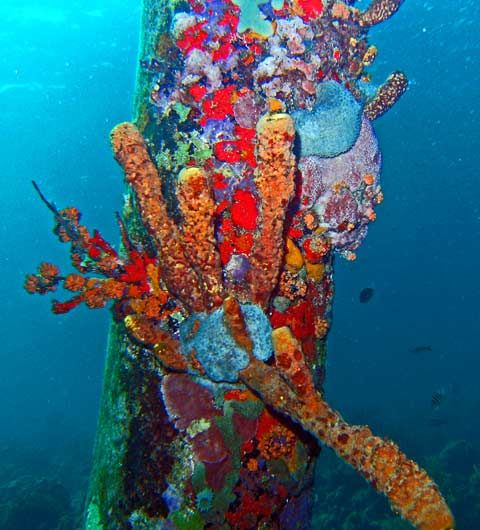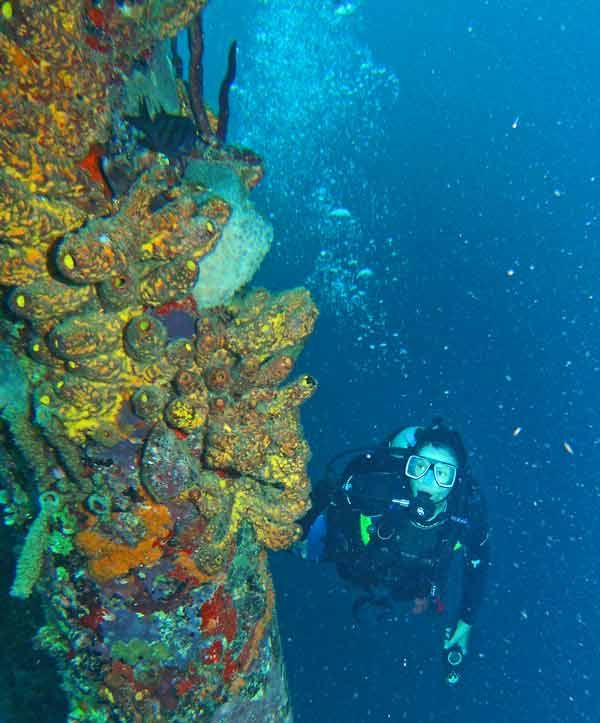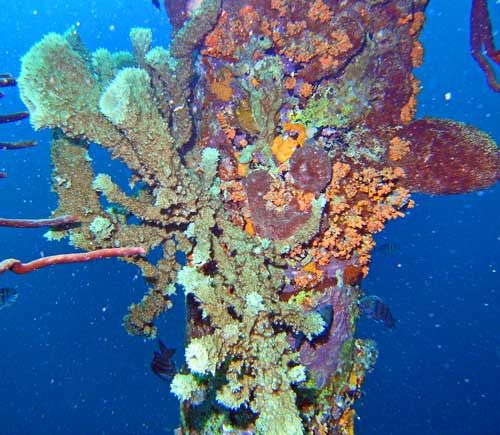 Tarpon in large numbers are common here.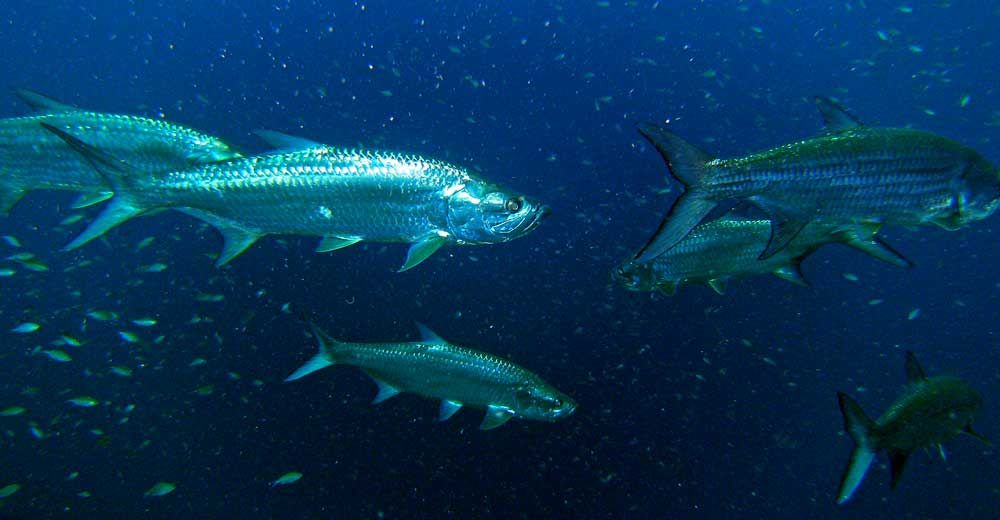 A tip from Neptune? As we were returning to shore,
we spotted a 20 NAF note drifting by…as if we needed
any more incentive to dive the Salt Pier.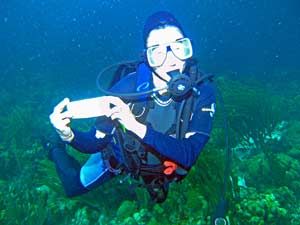 We completed a total of 40 dives during out two week stay,
from Red Slave to 1,000 Steps. Here are some
captured moments:

Our favorite mollusks are always fun to hang
with in the shallows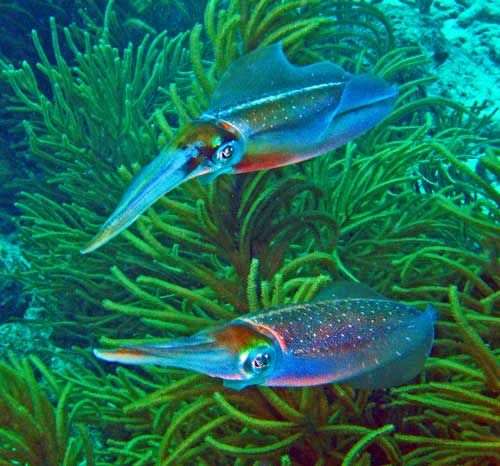 A quintet of trunk fish…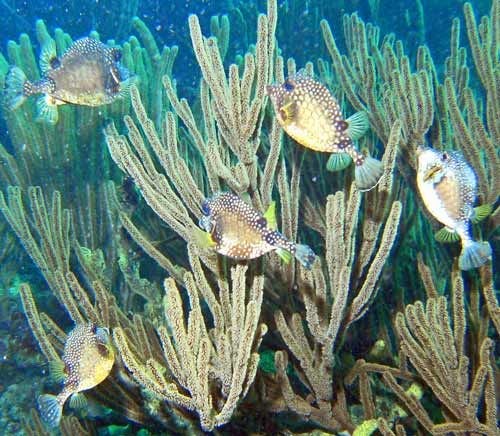 We concluded that the trunk fish's lips are perpetually
locked in the "Oooooooh" and "Aaaaaaaah" position
because, well, our lips would look the same if we saw
what they saw 24/7.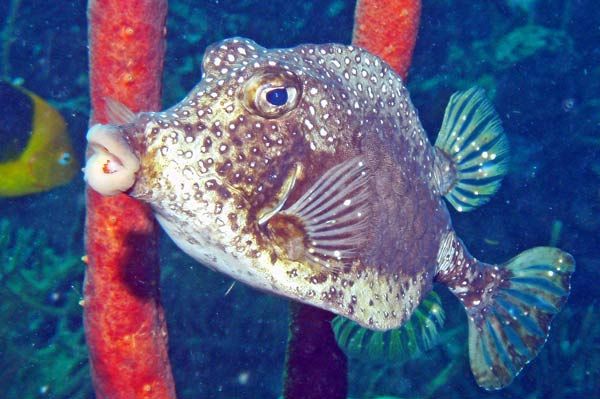 And no dive would be complete without a toothsome
greeting from Mr. Chuckles




Body piercing? Mr. Chuckle's friend supports
a fishing ban in the Bonaire Marine Park. Has anyone
else noticed a sharp increase in the numbers
of reef animals mangled from broken lines or hooks?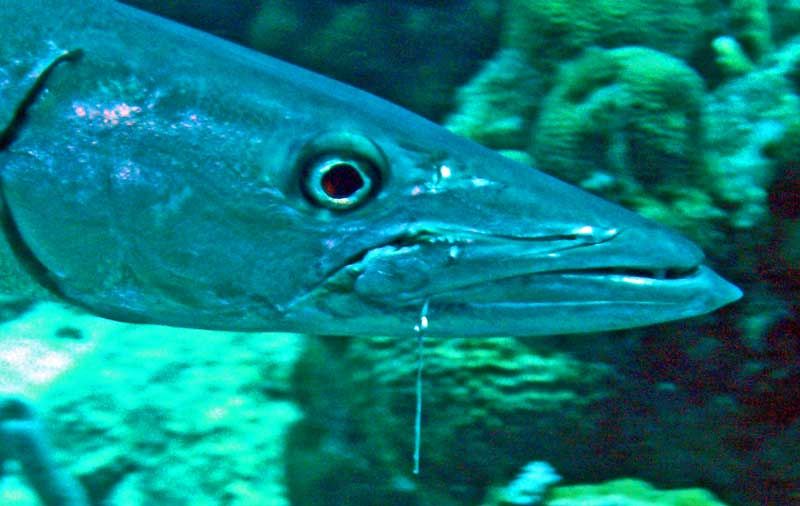 Performances by the pretty ballerinas are always welcome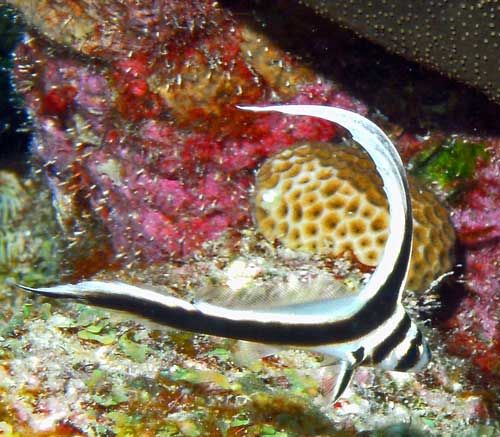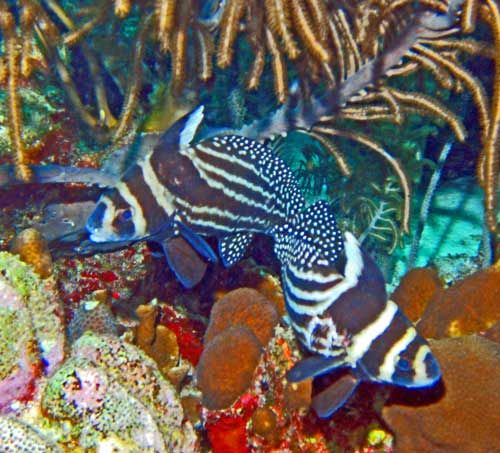 Acid flashbacks? Too neon to be real, this fish
needs to carry a sign advising: "Warning. Prolonged
staring at me may alter your neural wirings"




If too much beauty is fatal, we're dead in the water.
The wonders just keep on coming…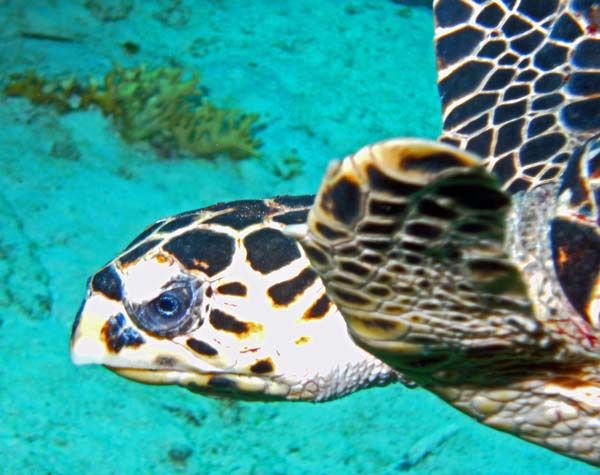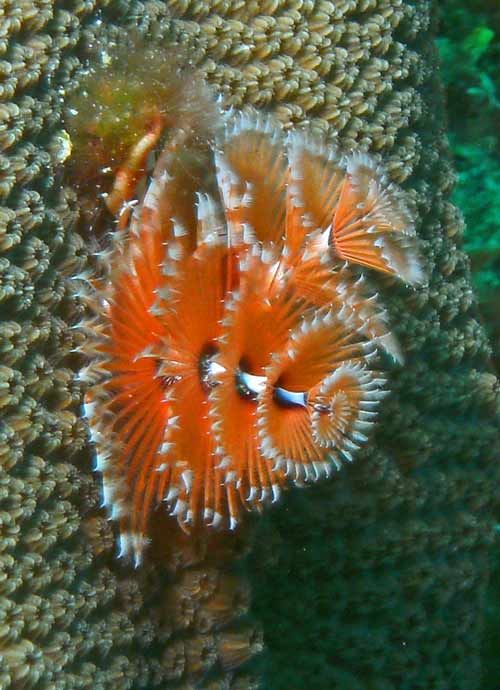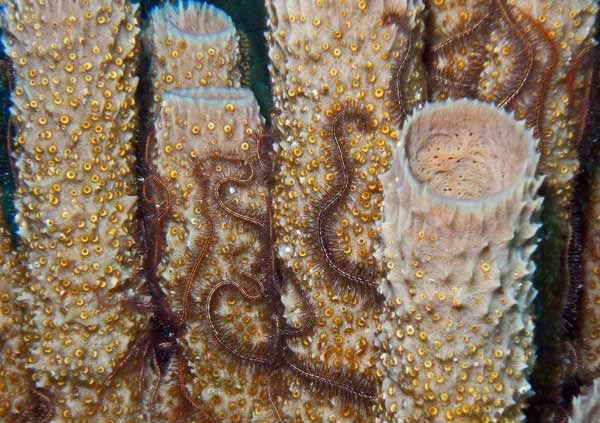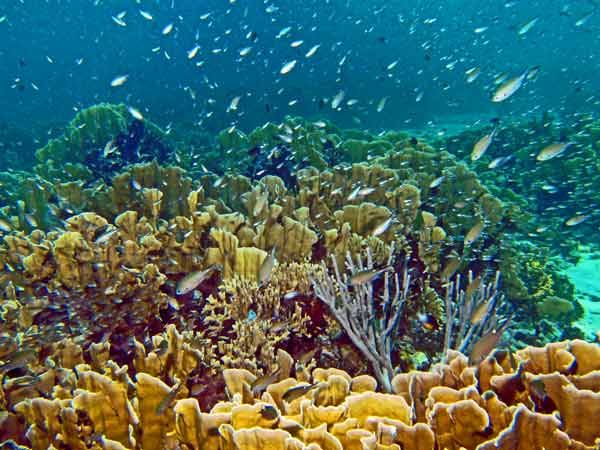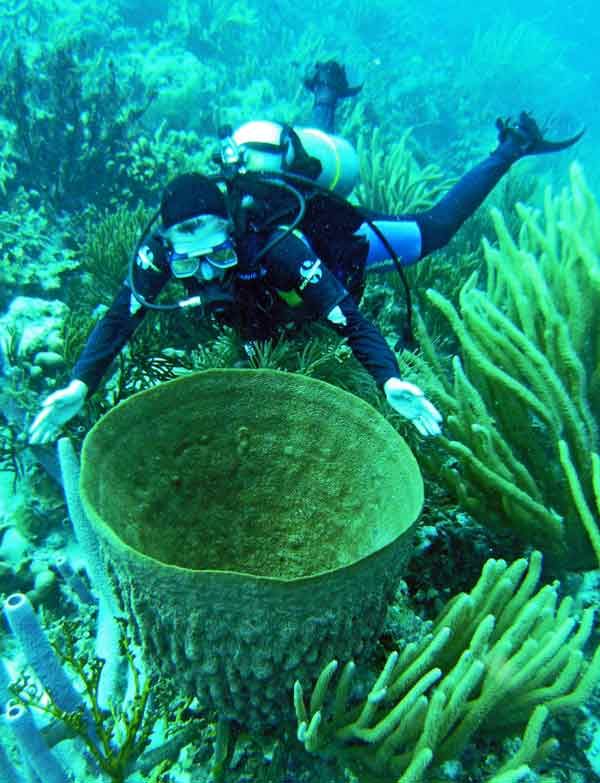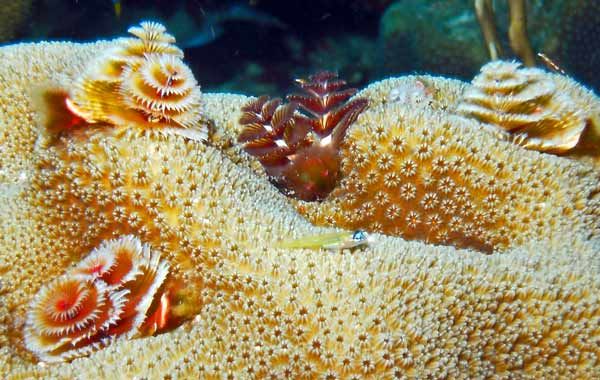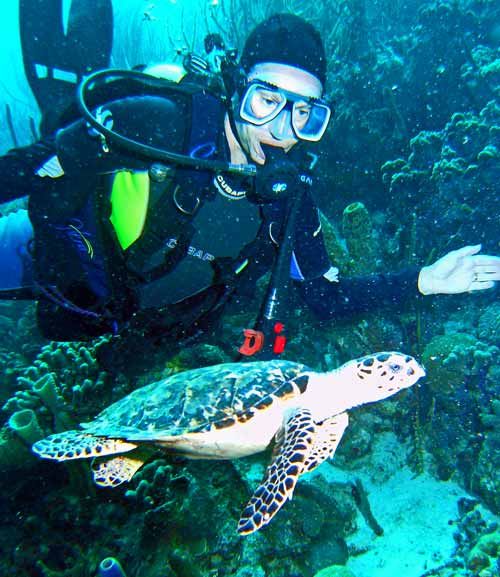 We celebrated dive 600 mid-way through our trip.
We selected a spot just south of Fish Hut that was, well,
calling to us. We parked and geared up. We informed
the Universe that, in recognition of the big Six-0-0,
we wouldn't mind at all if she provided something
out of the ordinary.

\image33}

The dive began with a predator-prey showdown.
We settled in and watched as the jacks employed
all of the usual military strategies: divide and conquer,
sneak attack, shock and awe, etc.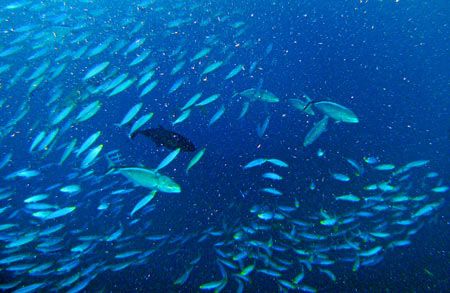 After five minutes, not a single prey ended up on
the wrong side of the jacks' teeth. Despite a reef
teeming with life, apparently there's still no such thing
as an easy meal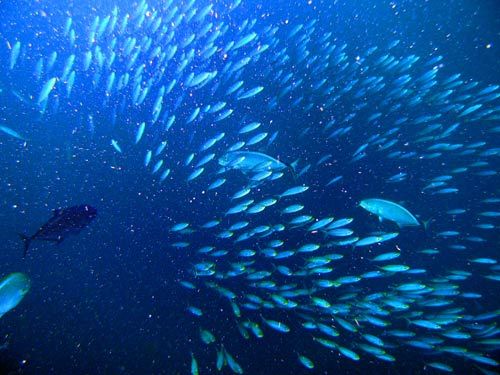 As our dive reached its conclusion, we wondered
what happened to an anticipated "something
out of the ordinary" experience. As we spotted our landmark
and turned shoreward, a young adult green caught
our attention. As she glided downward diagonally,
an older juvenile rose up from the sand. As they hung
suspended nose-to-nose, we knew we were about to see
something unusual. For a long while, they floated
in that formation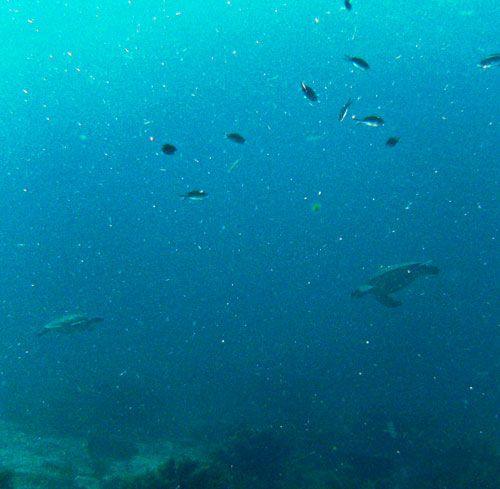 And then they started turning, counter-clockwise,
slowly, around and around.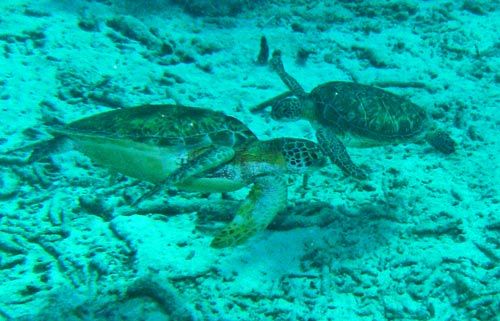 Round and round they went




They were oblivions to us, so we got closer.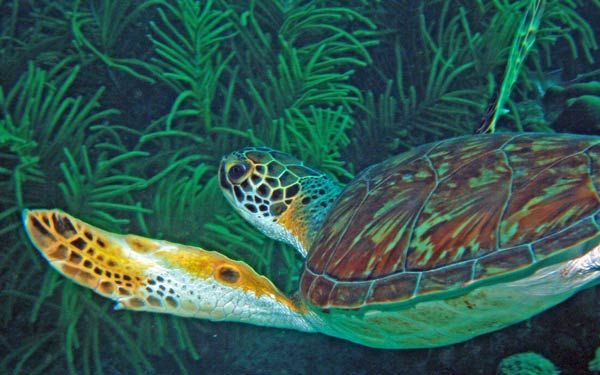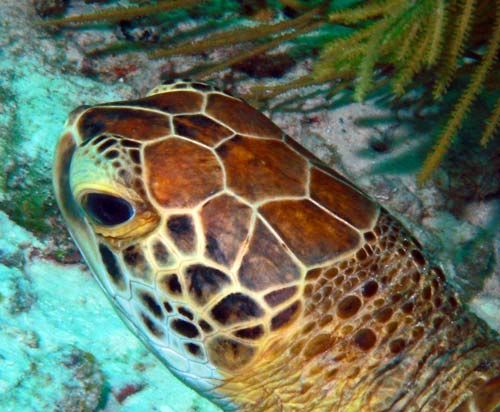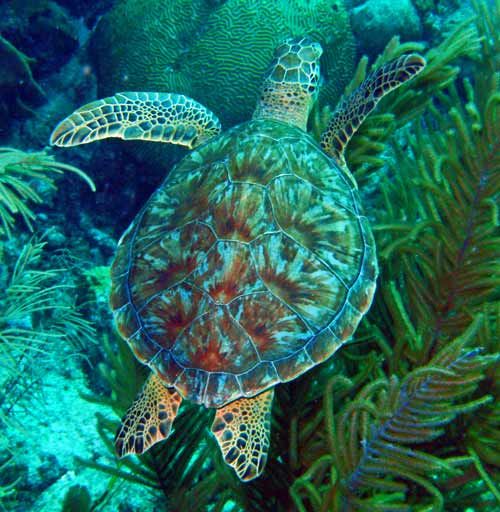 After three minutes or so, they separated and moved
in opposites directions. Then they stopped, as if they
regretted parting, and turned back to each other, and
repeated the circle dance.





This could have been a case of dog-like sniffing
of hindquarters, but it felt like a more primordial
exchange was taking place.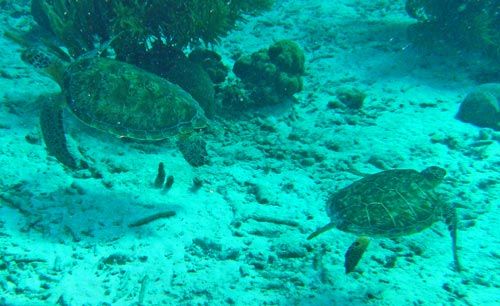 Rocking out on the reptilian carousel of love…and
no one will ever convince us that these two weren't
humming "Feeling Groovy"…or The Turtles "Happy Together".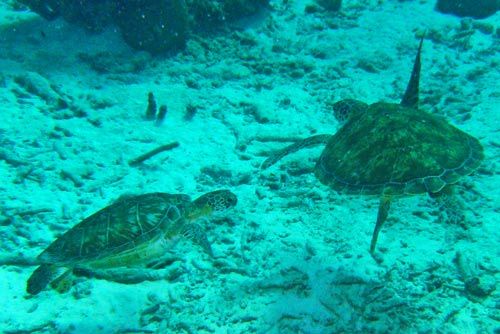 As we left the water and we're wondering if it
could possibly get any sweeter, an egret alighted
and greeted us as we stepped onto the beach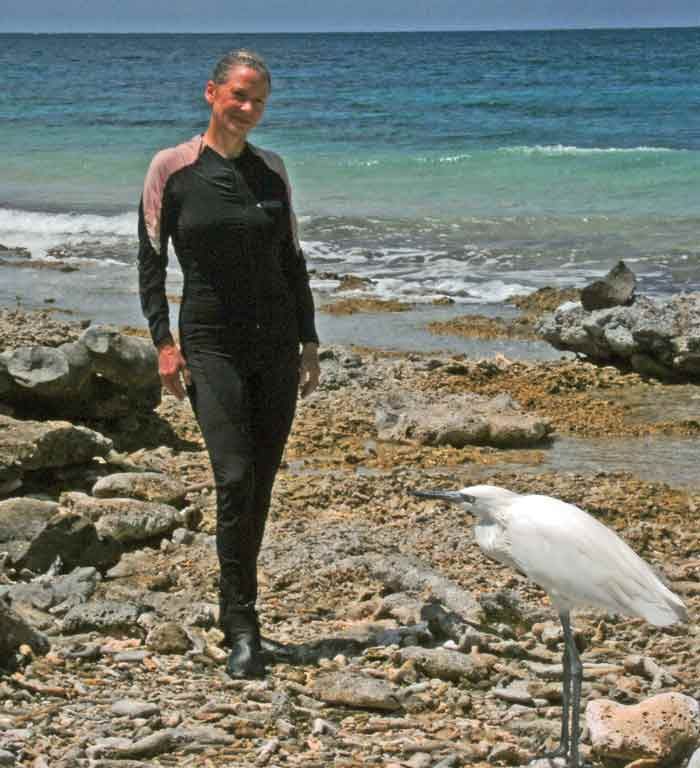 It was a heady moment. We walked up to
Fish Hut and lingered to absorb our surroundings.
It was one of those Caribbean confluences when
water, land, and sky blend to create the perfect
Bonaire moment, with afterglow aplenty…Yeah!!!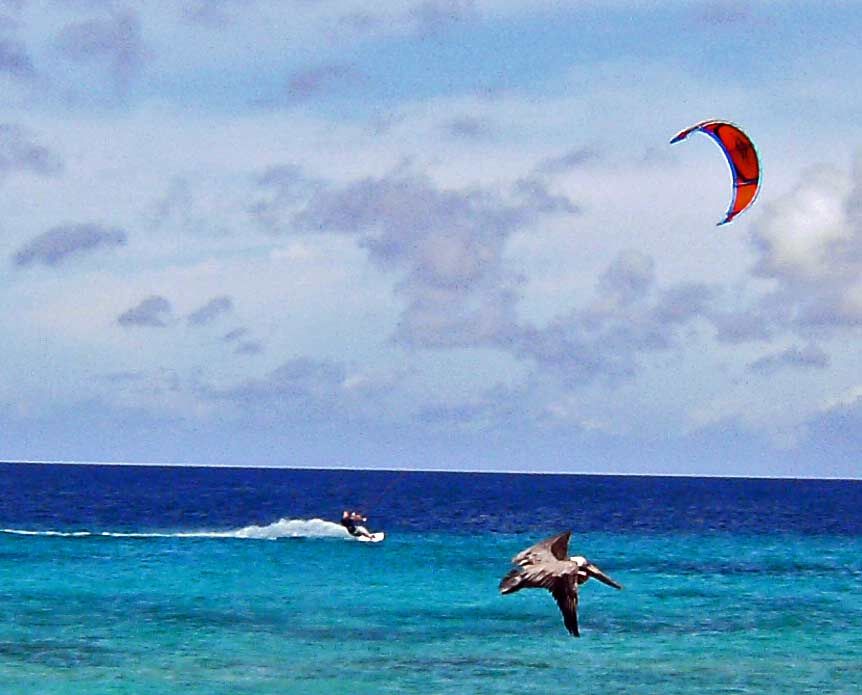 Travel logistics

Redeemed miles on AA. For our lengthy San Juan layover,
we taxied ($15) to Isla Verde. We checked into the
Coral by the Sea ($81) a budget motel. Neighboring
brand-name motels are much nicer and go for twice
the price, but all we needed was a place to shower
and leave our carry-ons while we strolled around.

Accommodations: LBR #13. Best deal on the island.
$1,344 for fourteen nights.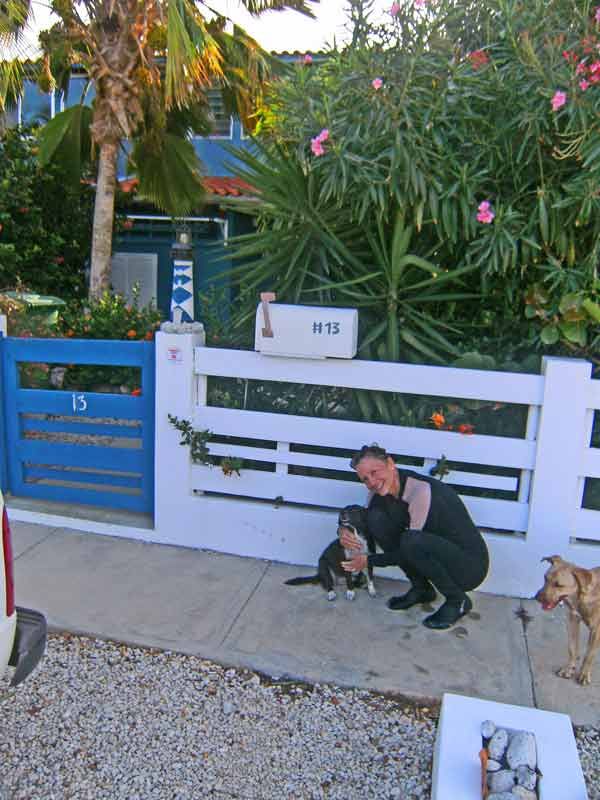 Truck Rental: AB Car rental. $410. Declined CDW
and used AmEx. All worked well with the truck.
It had just the right amount of dents and scratches
so no one would have noticed one more ding.

Dive shop: Photo Tours. 12-day package, $215 p/p
plus $25 for marine park tags.

For those in serious denial, the realization that the trip
is really over doesn't hit until the American Eagle
banks over Kralendijk. The only thing that makes
this moment manageable is the knowledge that
we'll be back in May. Ciao, Bonaire