BonaireTalk Discussion Group
Trip Reports: Report: June 3-12
Bonaire Talk: Trip Reports: Archives: Archives 2000 to 2005: Archives - 2001-11-30 to 2002-09-25: Report: June 3-12
---
The wife and I just returned from our first ever trip to Bonaire. Both of us were struck by the uniqueness of the place, its culture and climate, and the friendly, laid-back atmosphere. Of the places I've visited, nowhere have I felt more welcome than I did on Bonaire. I kept a day-by-day log of our experiences, and will post a full report. I have never used this service before, so there may be some goofs with image posting, etc. Please bear with me until I get the hang of it.
/image{town pier sunset}
Okay, I think I can fix that.
geo.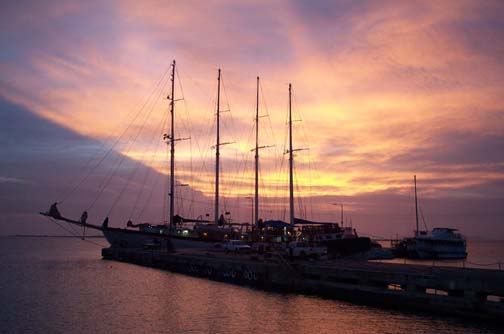 Incredible sunset!! Can't wait for the full report!!
George :

My wife and I have also just returned. We were there from June 5-12. I can't agree with you more. The island, diving, and local people were all great. This was also our first time to the island and were amazed to how friendly the people are and how clean the island is. We didn't see any trash anywhere. We had the experience of running into a large pod of dolphins twice on boat trips to the north end of the island. We just had great experiences below water and also above water. We have seven rolls of underwater photo's to develop and an hour of underwater video, so I have a lot to share for a full report once I get caught up on work. We will be back to Bonaire.

Jeff
Jeff, We will be waiting!
Jeff,
We probably saw each other at one time or another. Remember these faces?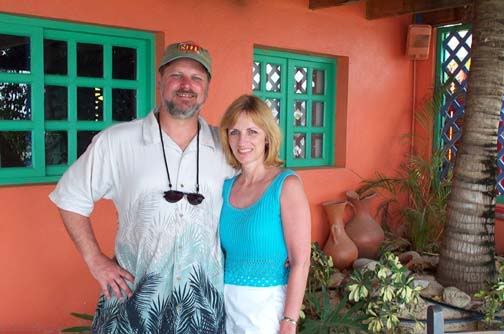 By Leigh Ann on Friday, June 14, 2002 - 4:38 pm:
Great sunset picture George. Can't wait to see it for myself in 10 DAYS!
George :
I can't say you look familiar. We stayed at Belmar and dove with Toucan diving at the Plaza Resort. Maybe we will meet the next time.

Jeff
---
Visit: The Bonaire WebCams - Current Bonaire images and weather!
The Bonaire Insider - the latest tourism news about Bonaire
The Bonaire Information Site, InfoBonaire
Search Bonaire - Search top Bonaire Web sites
---