The Flights

Getting There

I know - I read all the horror stories about flying American Airlines to the Pit in San Juan P.R. but we got the travel insurance and took the chance. It was 30 minutes to Miami from home base on the American Eagle, an hour layover - 2 hours to San Juan- 40 minute layover ( everyone said we would never make it, but we were traveling on a Wed. night and the flight was barely half full ) we were first in line to board. As we are walking to the American Eagle Super ATR I hear a voice behind me " Is there a Timmmy here" It's there on the tarmac where I first meet Jake R. and we chat a bit about meeting on Friday to change out the cable to the wreck cam. Two hour flight from PR and we are on Bonaire around 9:00 pm. toasting Brights with my new best friend Patrick T. I'm thinking OK, AA was not so bad.


Getting Home

Patrick drops us off at 5:00 am – funny Jake is flying out on our flight to take care of some business in the US. The flights home were kinda freaky! - Bon to SJPR - There was some smoke in the back and a hot iron left on a shirt smell. They turned off the air for ten minutes and then it clears up & was OK.

SJPR to Miami I had to sit next to a Dude who was expelling a full blown cold - hacking cough and snotty blows into magazine pages - kept my back to him all the way! Flight was full, no where to move.

Miami to SWR - big storms over the state - we flew south over the keys and hugged the coast over 10,000 Islands to Naples, flew inland to Bonita then back out into the Gulf of Mexico to make final approach ... Thank God there was no lightning!



The Restaurants

Wednesday - Capriccio

Angela had Polenta on a bed of cooked spinach
Patrick and I had the filet Mignon
We all enjoyed the facatcha and fresh bread. Service was fine but we discovered you have to ask for the check when you are done or they just kept filling the water glasses.

Thursday – Rum Runners @ Captain Dons Habitat

Angela had Shrimp and Wahoo
I had Grilled Wahoo with pineapple and peppers and au egratin potatoes
Patrick had fajitas

The quality of the food was 1st class and we all had creme brulee for desert. It was in the top 3 best that I've ever had. Patrick went over to the bar to chat with Jack Chalk while Angela and I watched the Tarpon ambush smaller fish and the waving lights of the night divers.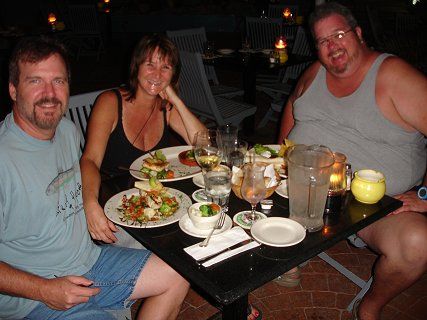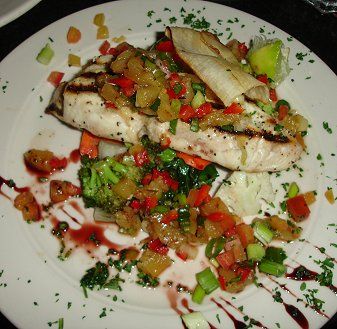 Friday – Lunch @ Bongos after replacing the cable to the wreck cam

Bacon Cheese Burgers – Timmmy Patrick
Asian Beef Salad – Seb Mare Jake and Angela

Dinner @ Bobbijans
Jake Linda Bas Yana Seb Mare Patrick Angela Timmmy

Chicken Beef Pork & Ribs and fries and slaw

Saturday - We had a little BT Mini meet at Debbie's house where we are staying.

Patrick grilled lots of meat , Angela made a wonderful salad, Jake brought over a whipped cauliflower dish with lots of butter, Tara and Guy brought party favors, lots of good conversation. Really enjoyed getting to know Jake Seb Mare Linda and now Guy and Tara are joining us.





Sunday - Casablanca Argentinean Grill

Angela had Chicken and Vegetables – she said it was good comfort food
Guy and Tara split the mixed grill ( a whole chicken, 2 pork chops, 2 steaks, 2 sausages, two chunks of ribs) and took more than half of it home.
Patrick had steak
I had grilled Wahoo and fries and rice.

Good food and great Company

Monday - Gibi's

I had Pan fried Wahoo - (and still loving it)
Angela had whole fried mini grouper.
Jake had the Jake special ( chicken thighs and Shrimp I think)
Can't remember what Guy Tara Linda Patrick Seb Mare Yana & Bas had.
Gibi was gone on vacation but they opened up anyway just for us.

Tuesday - Lunch – Bacon Burgers @ Bongo's

Dinner - Casablanca Again

We watched a slide show By Albert of Yellow Sub.
Patrick, Guy & Timmmy – all you can eat mixed grill
Tara had Satee
Angela still full from lunch!


Wednesday Eden Beach Resort's New Restaurant –"Brisa Del Mar" - Beach Bar Cam

Patrick had beef carpaccio and Lasagna
Tara & Guy Lasagna
Angela had fish Eden
And I had Grilled Seafood. (Wahoo you betcha)

Great food but drinks are $ 10.00 a piece and wine is $ 12.00 a glass

Thursday - Bunch - City Cafe
Eggs and bacon

Dinner - Lions Den ( Good Suggestion Debbie)

Fried Calamari

Angela had coconut curry shrimp and scallops
Tara had Tomato's & mozzarella and Satee
Guy had fried shrimp and fries
I had Wahoo with shrimp and a white wine sauce – best meal of the trip for me
Can't remember what Patrick got. Steak I think?