This had to be one of the best vacations we've taken on Bonaire to date. The only exception being that our first four trips included our son. He works now and couldn't come, but maybe we can do it again in the future with him.

History: Teddy and I have always stayed at the Divi together in the past, almost all boat diving – except those off the Divi dock, and with no vehicle to see the island. Then on our last trip together our friend Lutty from the Divi took us on a tour of the island. After that, I then went for a week and stayed at the Dive Inn with Darlene one trip and got to know more of what there is to Bonaire besides down town and around the Divi. And on that trip Tom and Smack were nice enough to take me along on a few shore dives. After I fell coming out once I went back to boat dives because I did not want to hold them back, although they were more than willing to put up with me.

Oct '06 trip - We celebrated our 30th anniversary this year and decided we just had to go to Bonaire before the year was done. And, we decided that this would be our opportunity to experience the Bonaire Diving Freedom. We stayed at Debbie and Greg Babcock's town house at Light House Beach Resort, rented a truck, and did almost all shore diving – only one boat dive in the entire week.

Townhouse: What a difference ! Ok it is called "resort" but is not at all like what you would picture. It is a beautiful town house unit, a 'resort' pool which although we wanted to try it we just never found the time, and it has a really nice easy entry dive site. Yes, the first few days the surf was rough and we chose to dive North sites instead, but we did do a few dives there and it was great. The town house is very well set up for divers, is very nicely furnished and decorated, and has a full kitchen with all the necessities possible. Check it out at http://bonairevilla.com/ There is also a brand new grill outside and Deb tells me they are putting in internet access this month. If you want more details about the accommodations email me. I highly recommend this place, as long as you have a vehicle – which I now know is great to have in order to experience Bonaire at its fullest. Oh yes, when we arrived late at night we were met by Stephanie, a nice woman who dropped us off at the townhouse and were welcomed inside to a beautiful vase of flowers, a bottle of wine, and an anniversary card, as well as a starter 'package' of groceries. How nice !! And, Stephanie, who lives next door, has a parrot who barks :-)

Dining: We planned to do very little dining out since we had such a great kitchen and the outside grill. But we did eat out a few nights, mostly for the socializing. We enjoyed dinner at BoBo Jeans with Darlene, at Gibis with a few BTers and others, and at El Fogon Latino with Lutty and his sister one night and again with Darlene. Although there are lots of nice places for dinner, we enjoyed the food and the relaxed, open, 'local' atmosphere of El Fogon Latino the most. Steak at Bo Bo Jeans is yummy !

Diving: Shore diving is awesome !!!! I guess I am converted! Diving with Teddy was so relaxed and we dove deep, dove shallow, dove night and day, did fine finding our way back to where to get out, all went well. Only issue was that our dive gear did not arrive with us. So we had to use gear from where we were getting our tanks. They were very nice and did not charge us for the gear but only had full foot fins. So getting in and out over the rough shore lines was tough. But the freedom of choosing sites, going at our own pace, and just being the two of us was awesome. I took the pictures and Teddy was happy to go as slow as I wanted and to point out things too. We found most everything we wanted to, but no frog fish this time. And admittedly, we would not have found the two sea horses without Lutty pointing them out to us on a shore dive at Witches Hut. He also found a juvenile trunk fish for me. He knows I really like them. And later in the week I found one all by myself !

Our favorite sites this trip .. Andrea I, Cliff, Oil Slick Leap, Witches Hut, Bachelors Beach, Something Special, off the dock at Buddy's, in no particular order as each is unique in its own way. I have to say, I really liked the ease of diving off Buddy's dock, and it is a nice dive.

Snorkeling – the last day; 1000 steps, where we really enjoyed the octopus, and then a night snorkel with Dee who is another of our very favorite people on Bonaire. Dee and Ulf have a beautiful family. Teddy is the oldest of 10 kids and spending time holding Nicole was great for him – he loves babies and she is beautiful. Teddy has never been interested in spending any time snorkeling. But after doing 1000 steps and the night snorkel he has a totally different view. But of course we'll dive when ever we can and snorkel on the last day. At 1000 steps we saw a small peacock flounder who just could not seem to get all his colors to work. We don't know why… ?.

Shopping – we picked up two piece of gold jewelry by Lutty at his shop, as well as a few shirts. I really like the long sleeve Bonaire shirts since the colder seasons are pretty long in Maine. Lutty has long sleeve shirts with an embroidered turtle, fish and in coral and an embroidered ray. People who know me just smile when I wear my Bonaire shirts since they know my passion is diving there. The two pieces are an octopus as a reminder of how much fun we had at 1000 steps, and a lizard because we always get a kick out of the lizards and the iguanas. Teddy and I care very much about Lutty. He has a big heart, is an awesome dive master, great photographer, excellent jewelry designer, and all in all a great guy. Please consider shopping at his new shop just down the street from the Divi. (no, we have no financial interest in this business)

This trip was just so laid back for us. Any little glitches were taken in stride.
It seems that we just rush through life and suddenly 30 years have passed. This trip was for us, what life is really all about – if only we could make day to day be like this; but then I might get fairly puckered up if day to day always included 3 or so dives. Ha – could take it for along time though I bet.

We took lots of pictures and I whittled down to those I like the best. I have not corrected them, but maybe as I do, I'll post a few. Here is one from our night snorkel with Dee …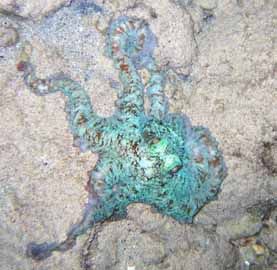 When will we go again? … depends on the lottery and how well I can budget, meanwhile BT gets me through the serious pbd.