BonaireTalk Discussion Group
Trip Reports: The Love Affaire Continues-IV
Bonaire Talk: Trip Reports: Archives: Archives 2000 to 2005: Archives - 2004-08-02 to 2005-05-08: The Love Affaire Continues-IV
---
By Dana E Clark (BonaireTalker - Post #22) on Thursday, March 24, 2005 - 9:08 pm:
The sites we dove were:
Invisibles-where we were treated to a visit from a beautiful Spotted Eagle Ray. I also had the pleasure of meeting the calmest Garden Eels I have ever seen. .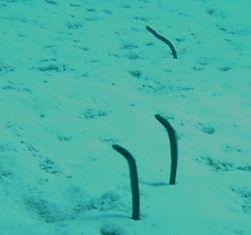 they let me get so close to them it was amazing!! I only wish I had not been so excited. I might have gotten a better picture… We also saw Honey Comb Cow Fish, Trumpet Fish, 4 spot butterfly fish and beautiful black corral with a Flamingo tongue on it.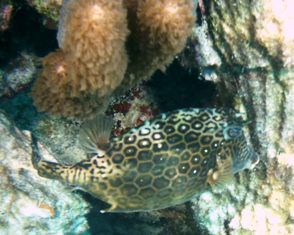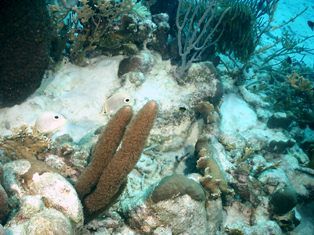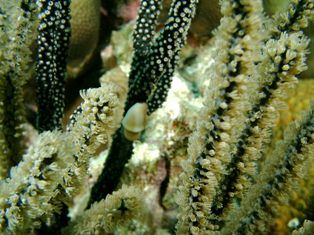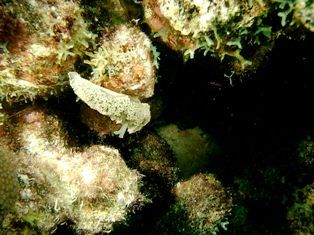 Tori's Reef- Had lots of Eels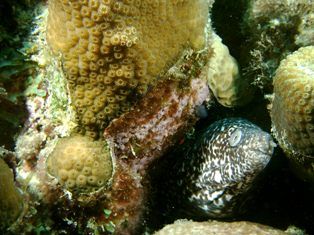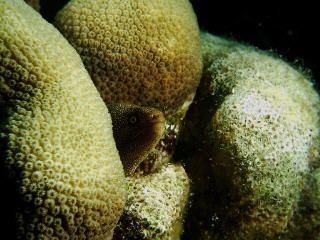 Aquarius-
Hilma Hooker- we did one shore dive and one boat dive here as we had students who were finishing up AOW and had never been on a boat dive before. Our return from the shore dive was far less then graceful as most of us ended up on our knees begging the surf god to look the other way so we could sneak into shore. A couple of delightful strangers passing by came and helped me in. On my swim back as the surf grew near I caught a sparkle out of the corner of my eye. Down in the crumbled corral there was a gold glint. I dug through and found a gold wedding band. It had been there so long that it had red and white stuff growing on it. There was no inscription but it was obviously a man's wedding band. I showed it to Rod who slipped it on his finger and declared "Perfect fit! I will wear this when we get married." I don't know about you guys but that sounded like a proposal to me;-) On the same dive I also found a flash diffuser for my camera. Not nearly as exciting but it was a 20.00 findJ I gave it to a friend of mine who had just gotten the same camera for his birthday. He had already given me one that he had won at our Christmas party before he had his camera.
Bachlor's Beach-

By Dana E Clark (BonaireTalker - Post #25) on Thursday, March 24, 2005 - 9:33 pm:
This post should have been The Love Affaire Continues-III. The one that follows should be The Love Affaire Continues-IV not The Love Affaire Continues-V
---
Visit: The Bonaire WebCams - Current Bonaire images and weather!
The Bonaire Insider - the latest tourism news about Bonaire
The Bonaire Information Site, InfoBonaire
Search Bonaire - Search top Bonaire Web sites
---