Ok, I forgot the "Donkey" in the first part of the trip report...oops!

Fun Stuff

Kelly: Jake and Linda have this "thing" that looks like a racquetball racket, but it's a battery operated bug zapper. It was the coolest thing ever! I loved zapping the mosquitoes and flies! I want one. (the small things amuse me). Cynde: Kelly is really easily amused….seriously, I don't know if you can get that thing on the island, but I want one for November! When Kelly arrived it was the first thing I showed her. It has a little button that you hold down when you get the bug and you can watch it fry! I fried one, then told her "you can't touch it when it is on, but once you release the button it is OK..NOT!" I touched it and got zapped! Ouch!

We had fun putting strange things on the gate in front of the house, and letting people guess what they were. The "large, hissing rat" was my favorite. I had to forego some clothes to pack it ! It was also dubbed the party rat at the BBQ Tues. night.

At the airport in San Juan, I was making my way to the gate, and heard a "Kellllly!". It was none other than Cheryl B. and her husband Airey from Texas. I sat with them waiting for the flight, and it was like we'd known each other forever, such fun! I did a dive with them, and James and Kathi McPeak from Pennsylvania at Small Wall on Wednesday. We also did a dive with just Kathi the next day at Kalabas Reef in front of the Dive Inn.

We had dinner one night with the four of them at Casablanca. The food was great and the company was great. Afterward, we went to Jim and Kathi's place at the Dive Inn and had a few drinks, and were extremely entertained by Jim's Famous Donkey Call. "They'll come", he said. And he was right. They did! It was hilarious.

Jim, Airey, Cheryl, Kathi and Kelly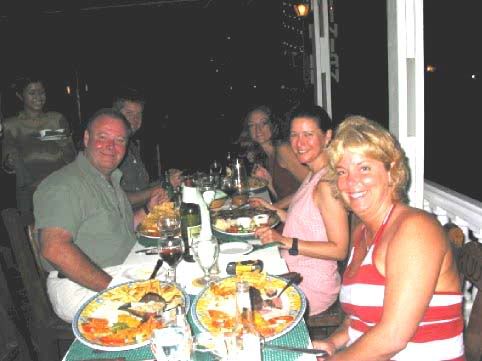 Funniest story of the trip. Cynde and I were doing a dive at Buddy's, and were kind of doing a float/snorkel out to where we were descending. We're just floating in the water, talking, and Cynde says, "I'm having a terrible pain in the middle of my chest; do you think I'm having a heart attack"? Did you get that everyone?? Does KELLY think that CYNDE is having a heart attack? Well, I ask you -- how in the heck would I know if she is having a heart attack?? I couldn't help it, I started laughing and said, "well I don't know CYNDE, do YOU think you are having a heart attack? Good Lord!" She just said, well no, probably just heartburn or something… and descended…. So I descended too and we did the dive. You can imagine my relief that it was "just heartburn or something". God love her. It became the phrase-of-the-trip ~~ Hey Cynde, do you think I'm having a heart attack??? Okay you truly had to be there, but it was so darn funny, I am laughing now as I type this!

Cynde: I'm laughing now too…I have GERD and a hiatal hernia, and sometimes the heartburn gets a little rough…it was pretty funny…I really think I should stop downloading and analyzing the DAN Annual Fatality Report though!

Things I learned about Cynde ~~

She likes to eat like I do, she likes to sleep in like I do, she adores her husband, has a great sense of humor and adventure, and she's lots of fun. Almost every night when we got into bed, exhausted, we would start talking and giggling like college roommates. It was a 9 day slumber party! What did she learn about me? We'll leave that to her to explain… lol… but will probably involve Pepsi and taffy for breakfast….

Okay, this is important. When Cynde gets testy, you MUST either feed her, put her in the water, or give her a glass of wine. And if you feed her, put her in the water, and THEN give her a glass of wine, she is really a happy Cynde.

Most importantly, I learned that with a sense of adventure, and an open mind, anything is possible. I learned a lot about myself in this process, and for that I thank you Cynde. You are awesome! I love ya!!


Things I learned about Kelly:

She is a giver. She is a sweetheart and a true friend who you can count on. She likes to eat for god's sake! Woohooo! She liked me to scratch her back a lot, which of course I made her scratch mine too…we are pathetic without our men. She loves John very much, and he loves her tooJ She is up for "anything, anytime." The only 2 decisions we had to make were where to dive, and where to eat!

Funniest story about Kelly? I have two…First story: Long about day 2…she says that she needs to go to the store to get a toothbrush, because she forgot hers…we head to the art festival, and after the amstels, store closed…oops! On Monday, we went to the Tropicana to shop for the BBQ, and a toothbrush….I found them…but you had to buy 12! Like what was she going to do with 12 toothbrushes???? It was like the Gods didn't want her to brush her teeth, I swear! This is not an episode of SURVIVOR!

We laughed, and put everything back and ended up going to Cultimara cause I couldn't find the Warehouse…bought our party supplies and as we were driving back to the house we realized that we had forgotten to get the toothbrush! OK, maybe this is Survivor for Kelly!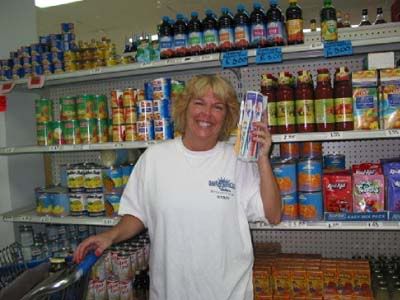 Story 2: Kelly has this great dive skin from Dive Goddess that is bright blue and has fish all over it. It was really cool, and very easy to spot her underwater. On the one boat dive we did to Klein, she was gearing up and the gentleman next to her complimented the dive skin. Then his lady friend next to him looked at her…up and down (you know, giving her the once over) and said "Just what exactly is that FOR?"

Extras: We took a drive up North during a surface interval. Checked out the ladder at oil slick leap…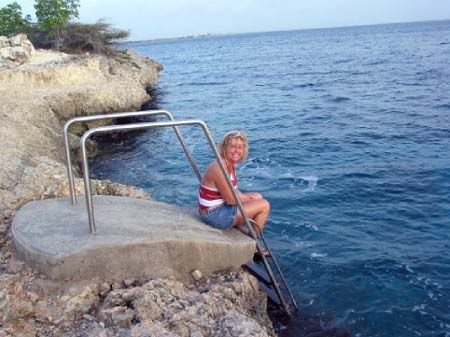 We found this spot just north of oil slick, along the walking path that was kind of cool…blow hole…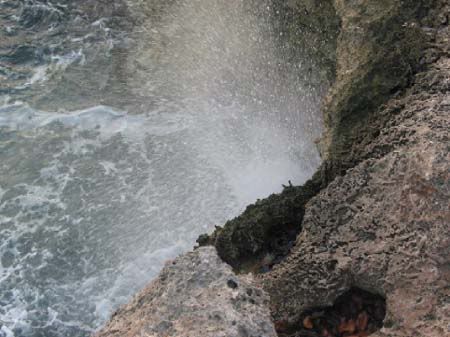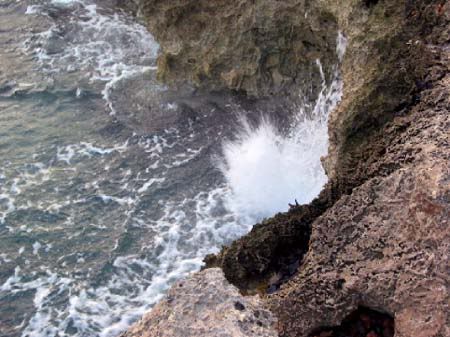 The sun was setting…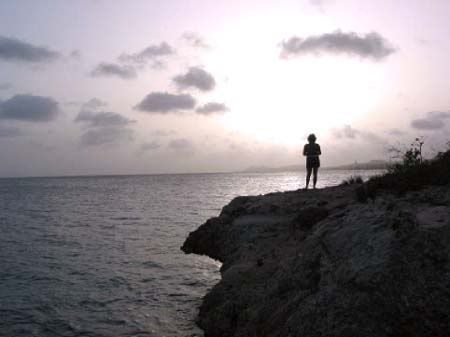 Unfortunately, we were either diving, or out during most of the sunsets. With hurricane Claudette, we had a lot of cloud cover most days. Here is a good one that I caught the tail end of…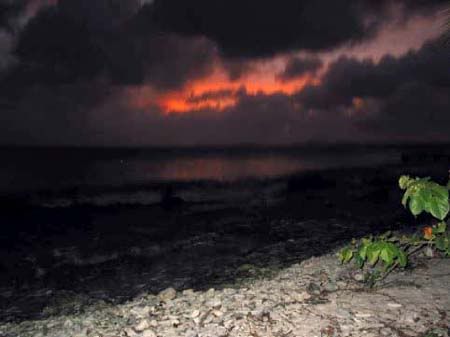 Since I lost 3 of my 4 rolls of film, I don't have many of my underwater pics to post…so here are a few fairly good ones…

OK, this coral kind of looks like a bum to meJ
/image{coralxmastree.jpg}

/image{cowfish.jpg}

Notice the juve filefish in the upper right corner. They were everywhere!
/image{cupcoral.jpg}

/image{frenchangel.jpg}

/image{grunt.jpg}

/image{rockbeauty.jpg}

/image{sarge.jpg}

Ok, I saw this coral "rubble" and can you figure out what the shape looks like?
/image{sh.jpg}